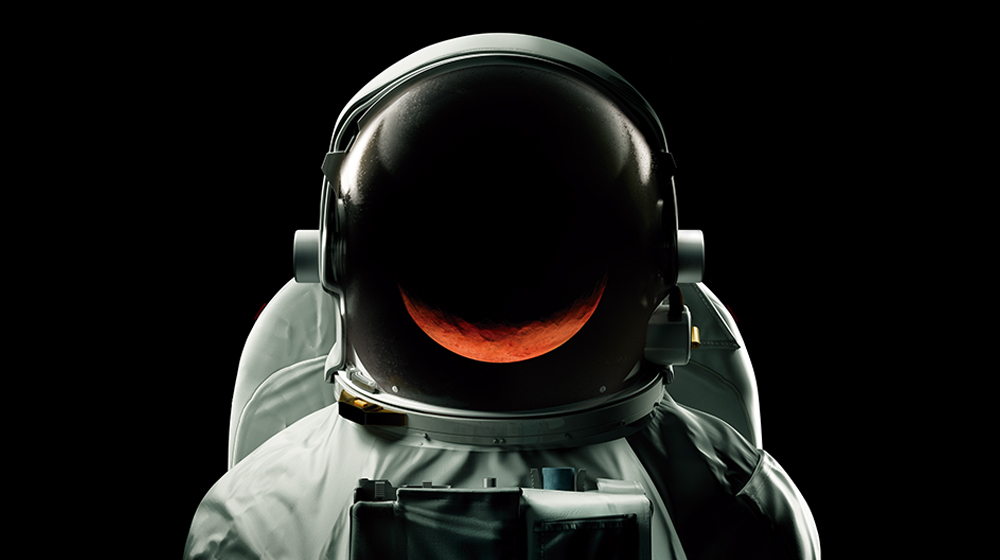 Exhibition
Mars
The Red Mirror
This exhibition looks at our relationship with Mars, from antiquity to the present day. Science, art and literature come together in a major exhibition project that coincides in time with the arrival of three space missions to the Red Planet. Mars. The Red Mirror explores our condition and future as a species and the ultimate nature of the universe we live in.
Since the earliest civilizations, Mars has been a mirror, a metaphor and a source of inspiration for humankind. This exhibition unfolds the many stories that have centred on Mars, from antiquity, to present-day science and research, to the impact on fiction of the Martian imaginary. The show also presents spaces of reflection and knowledge about what we can learn from the Red Planet, climate crisis and human life on a hypothetical planet B.
With more than 400 objects, including incunabula, sculptures, drawings, comics, films, manuscript documents, collector's items and even a Martian meteorite, the exhibition is a comprehensive commitment to knowledge of artistic, literary and scientific creation based around Mars.
Mars. The Red Mirror is an exhibition project curated by Juan Insua that brings together the views of audiovisual and digital creators, artists, scientists, experts and inquiring minds who present original work about Mars in this show.
A parallel programme of debates, cinema, meetings with experts, and educational and mediation activities complements this project that connects us with the challenges of the future at a time of maximum historical relevance for Planet Mars.
If you're a fan of science-fiction, you shouldn't miss the selection of films that can be viewed on the Mars.The Red Mirror channel on Filmin.
Inside the red mirror
Sections of the exhibition
Mars in the Ancient Cosmos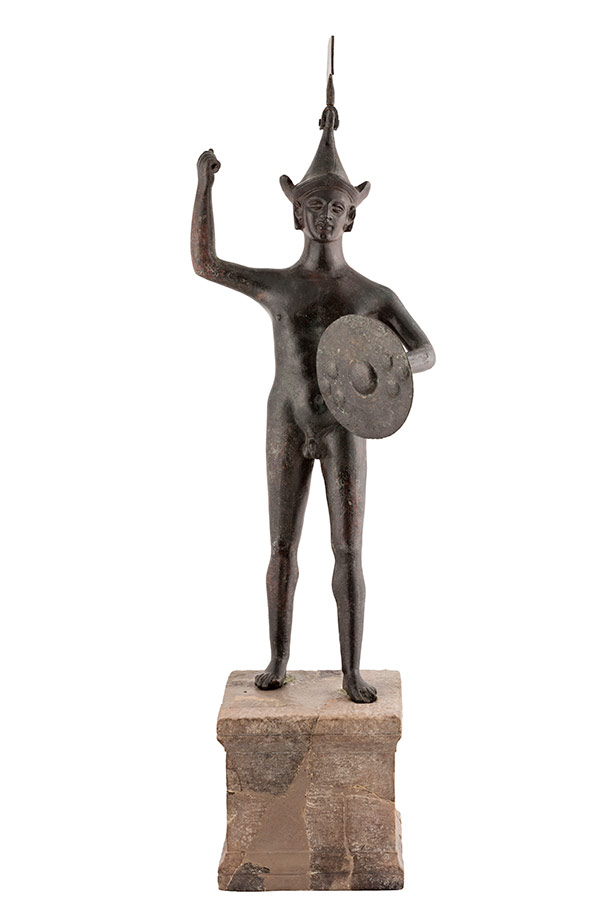 Mars Balearicus. 400 b.C. Bronze. © Museu de Mallorca
Ares, in Greek mythology (Mars in Roman), is one of the divine powers that have a monopoly on war-related affairs. This is a constant in ancient traditions and cosmogonies, and a first archetypal factor associated with male power, the virtues of the warrior and the fury of combat. It incarnates a necessary force to survive and overcome, but also the excessiveness of a lethal energy if not subject to a higher order equipped with measure and reason. It is significant that his entourage should include, among others, his sons Phobos (Fear) and Deimos (Terror), not forgetting his confrontation with Athena (goddess of war) and his affair with Aphrodite (or Venus), goddess of love. Mars, then, as a symbol of violent masculinity running through the history of humankind up until the present day. And Mars, too, interpreted according to the place he occupies in the mental systems that shaped the order of things until the Renaissance.
Science and Fiction of the Red Planet
Amazing Stories, vol. 1. n. 9. December 1926. Gernsback Publications. Cover illustrated by Frank R. Paul (1884-1963)
The secularization of consciousness that has taken place since the Copernican revolution, driven by the development of science and technology in recent centuries, has allowed the gradual knowledge of Mars as the fourth planet in the solar system and, in turn, generated a unorthodox literature that corresponds to a large extent with the various phase of science-fiction, from HG Wells to the works of Ray Bradbury and Kim Stanley Robinson, to mention the best-known examples. This is a thought-provoking paradox: extraordinary scientific advances in knowledge of the Red Planet are intertwined with a broad-based cultural production in which Mars occupies a prominent place and becomes a prime icon of pop imaginary. This project highlights the communications between science and fiction, science and literature, science and popular culture, and explores the influences and contagions between scientists, engineers, writers and artists obsessed with and inspired by Mars since the late 19th century, suggesting an experimental mythology that forms the exhibition discourse.
Mars in the Anthropocene
LATAM-III analog mission carried out at the facilities of the Mars Desert Research Station, in Utah (USA), in May 2019. © Mariona Badenes Agustí
The scientific community agrees on the ecological catastrophe we are witnessing due to global warming, despite the best efforts of climate change sceptics. We are living at a time of climate emergency that affects all living species and compromises the future of new generations. The diagnosis is evident, but the solutions are still uncertain. Faced with the complexity of the situation, there are voices that propose spatial colonisation as an inevitable option, and others calling for urgent solutions to save our only possible home for many years: planet Earth. And this is where Mars, as a probable (or impossible) planet B, reflects the transcendence of our global ecological crisis. Mars as a mirror to review the stages (and strata) of our awareness, and the deep breach that exists between knowing and doing. Mars as a metaphor of our ancestral patriarchal trends, Titanism and Prometheanism, Mars to continue seeking answers about the origin of life (terrestrial and extra-terrestrial), but also to become aware of a world without us.
Related contents
Culturnautes 2021: week 2
What stories would we tell if we went spent our holidays on Mars? Would they be different to the ones on Earth? What would its inhabitants and the landscape be like? The Pink Pixel Collective (Sílvia Martínez, Marina Sáez, Ives Laborie and Zeta) invites us on an experimental five-day journey through illustrated storytelling and collaborative creation.