Mars
Mission Curiosity
A Martian project for students of elementary school
Education
In this project, students will have the opportunity to put their questions about the red planet and space exploration to Catalan experts in both the scientific field and the social sciences and arts. A mission to Mars crewed by elementary school aeronauts who visit the exhibition Mars. The red mirror.
Mission Curiosity addresses the perspective of the little ones who will be able to explore Mars in a guided tour of the exhibition. The journey will take them from the earliest civilizations, and their original impulse to observe the night sky and seek answers through magic and myths, to the most cutting-edge contemporary scientific proposals. This new research explores the possibility of a planet B and yet investigates the care and regeneration of planet Earth in the age of climate emergency. Therefore, the visit is driven by the environmental awareness that Mars awakens as a mirror of the Earth.
The guided tour allows students to approach the exhibition in a dynamic and participatory way with the aim of arousing their curiosity about the neighboring planet from various fields of knowledge. Children who visit the exhibition during the month of March will have the opportunity to put their most unique questions, whether they are scientific, environmental or literary issues, whether they are about past History, about present explorations or possible futures. The answers to their curiosity will be made public during the months of May and June in short clips made by the experts themselves.
Participants: Raimon Fransoy, Ariadna Farres, Miguel Pajares, Maria de Soria-Santacruz Pich, Gabi Martínez, Ricard Solé, Raül Garrigasait, Gisela Detrell, Yayo Herrero, Alfredo Muñoz, Maria Ptqk, Andrea Butturini
This activity is part of Mars
Related contents
Response from Andrea Butturini
Human beings have caused climate change, and after destroying Earth, are looking for a chance of survival on Mars. But our host planet should be saying to Mars: Humans are not a very recommendable people! Primary school children that have visited the 'Mars: The Red Mirror' exhibition have left a lot of questions and comments.
Ariadna Farres and Miguel Pajares give their answers.
Do we want to be planetary climate refugees? In this video, mathematician Ariadna Farres and anthropologist Miguel Pajares share their answers. Primary school children that visited the "Mars.
You might also be interested in
Create and animate your own imaginary creatures
Guided tour with the family and track game in the exhibition "Science Friction. Life between companion species"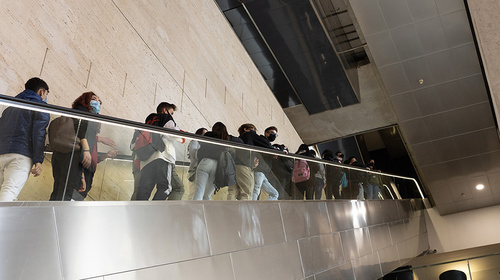 Call for secondary schools