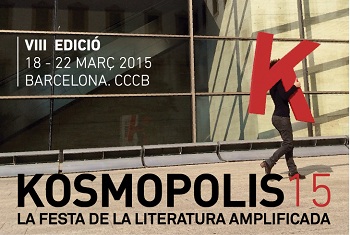 Kosmopolis
Kosmopolis 2015
8th Amplified Literature Fest
Kosmopolis is a biennial festival that since 2002 has defended an open—amplified—concept of literature in which the word (oral, printed, electronic) interacts with the arts and sciences. It is a festival for discovering authors and genres, questioning the canon and the boundaries between disciplines, and explaining the futures of books and reading.
The full programme of the festival will be announced in mid-February 2015.
In this coming edition, we'll be looking at new journalistic narratives and the evolution of investigative journalism, there'll be a central space about the influence of the writer W. G. Sebald in today's literature, and we'll be celebrating the 150th anniversary of the publication of Alice in Wonderland.
There are new features in the festival's special sections, too: Kosmopolis Bookcamp, devoted to the world of books and publishing, from Thursday to Saturday, will be exploring the limits and possibilities of the book from different viewpoints. And Canal Alfa, the audiovisual programme inspired by literature, is back, stronger than ever, with two outstanding new features: the daily premiere of an evening feature film showing and a whole Sunday devoted to TV series of great literary quality.
The full programme of this year's edition is already available here: http://kosmopolis.cccb.org.
Related contents
Kosmopolis
These have been five days of high intensity where we have been joined by over 8,900 people. Five days of literary exchanges, of debates on the future of journalism, on Europe, on the legacy of W. G. Sebald and the anniversary of Alice in Wonderland. We have enjoyed the attendance by over 150 ...