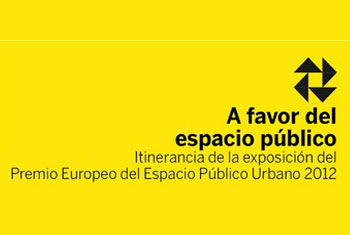 In favor of public space
Centro de Desarrollo Cultural Moravia (Moravia, Colombia)
The exhibition of the European Prize for Urban Public Space has crossed European borders for the first time. It is now on tour in several cities of Latin America, starting in the Centro de Desarrollo Cultural de Moravia (Moravia Cultural Development Centre) of Medellín, where it was inaugurated on 4 October and will be shown until 30 November.

The neighbourhood of Moravia in which the exhibition venue, the Cultural Development Centre, is located was one of the most densely populated and economically depressed areas of the city of Medellín until quite recently. It was built over the municipal rubbish dump and, for several decades, was known for its insalubrious conditions, social exclusion and violence. In the past ten years Moravia has undergone a thoroughgoing transformation thanks to a far-reaching programme of intervention by the Medellín City Council. The Moravia Centre is one of the fruits of the city's commitment to culture as an element of social transformation. The Centre is a community service offering a cultural and educational programme that local residents have embraced. This was patent at the opening of the exhibition, which was attended by the whole neighbourhood.

The opening event, which took place in the framework of the Fifth International Congress on Creative Cities was a great surprise, which the organisers kept secret until the last minute: those who attended were treated to rum cocktail and a wonderful festival of capoeira, breakdance and hip hop in which the young people of the Moravia neighbourhood were the stars. Old and young filled the exhibition venue with a festive atmosphere and the most genuine spirit of public space.

The exhibition, which the local community also understands as an educational tool, presents the two joint First Prize winners (Barcelona and Liubliana), three Special Mentions (London, Nantesand Malmo) and a Special Category (Madrid), as well as the nineteen finalists. This material is complemented with an audiovisual with statements by Jury members who discuss the choice of this year's prize-winning works, and another video titled "Espais compartits amb …" (Spaces Shared with …) in which fifteen thinkers from different disciplines – including Tzvetan Todorov,Doreen Massey and Nancy Fraser – share their thoughts about public space. The documentary "Europa Ciudad" (Europe City), a co-production of the CCCB and TVE (Spanish National Television), which discusses the European model of the city, was also screened at the exhibition.