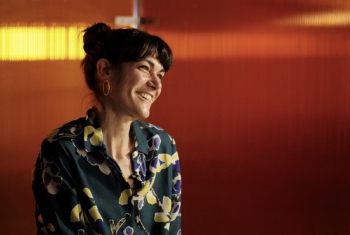 Meritxell Colell Aparicio
A graduate in Audiovisual Communication from Pompeu Fabra University in 2006, in 2005 she received a scholarship to study at the Universidad del Cine (FUC) in Buenos Aires where she made Manuscrit a la ciutat. As an editor she's worked on nine feature films shown at prestigious international festivals. Her first feature film as a director was in 2018. Con el viento was selected at L'Atélier of the Cannes Festival Cinéfondation in 2015, premiered at the 68th Berlinale and won an award at the Malaga Festival. It has been exhibited at over fifty festivals around the world. In 2020 she premiered Transoceàniques at the Nara Festival (Japan) and received a special mention from the Spanish jury at the Gijón Festival. Her second fiction feature film, Dúo, premieres in 2022 and wins the award for best direction at the Malaga Festival (Zonazine). She's also developing Lejos de los árboles, a new feature film made in collaboration with the sound artist Angélica Castelló.
Since 2007 she's combined filmmaking with teaching cinema and forms part of the "Cinema en curs" team, a project by the association A Bao A Qu. She's an associate professor on the Audiovisual Communication degree at the Pompeu Fabra University and gives seminars and workshops at various schools and institutes, such as ESCAC, ECIB, EICTV and IDEC.
She has collaborated with the Miró Foundation on audiovisual pieces such as "À toute épreuve", more than a book, Sumeria y el paradigma moderno, Ito Shinsui. Tradition and Modernity, and Self-organization.
She writes and directs La ciutat a la vora, selected for the City Symphonies project and produced by the CCCB in collaboration with Dones Visuals, which premieres at D'A Film Festival 2022.
donesvisuals.cat/usuaris/meritxell-colell