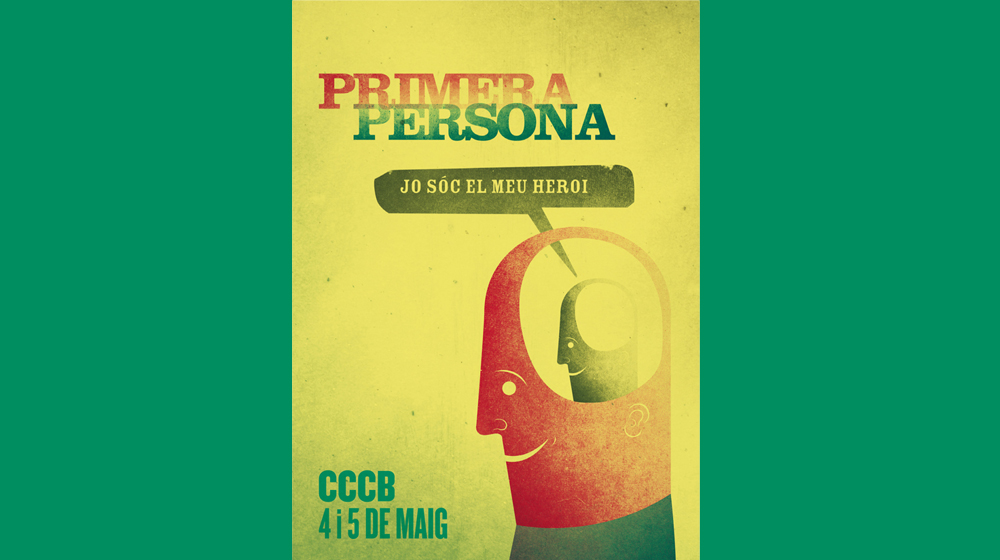 Primera Persona
Primera Persona 2012
I'm My Own Hero
Scene + Music + Festivals
The Teatre CCCB hosts one of the first stage productions that the CCCB has designed specially for this space. The first Primera Persona festival, brainchild of journalists, writers and cultural agitators Kiko Amat and Miqui Otero, presents a particular view of the first person narrative with the help of performers who have been chosen for the emotionally honest, pure, unadulterated and, as applicable, humorous value of their stories.
Aided by Jonathan Ames, Tobi Vail and Ben Brooks; Juanjo Sáez (presented by Darío Adanti) and Manolo Vázquez; two duos made up of Antonio Luque-Jota and Stewart Home-Javier Calvo; the "Harto de todo: Que pagui Pujol!" trio (Jordi Llansamà, Joni D. and Jordi Valls), and Els Surfing Sirles, the festival looks at the reasons that made its guests feel like the leading characters of their own peculiar stories. By means of their novels, monologues, comics, films and songs, Primera Persona unravels the necessary processes to bring these stories to other people, the anonymous extras acting as an audience.

In the hope that this will be the first of many, the Primera Persona festival proposes a different stage format in the Teatre CCCB, on this occasion a space open to all kinds of approaches and aesthetic gambits with the aim of defending and exchanging ideas, singing songs, screening evocative videos and listening to the experiences of these first persons. This open stage sets out to allow the central characters to recount snippets of their heroic biographies, whether out of a desire to exorcise them or sheer love of storytelling.

Friday 4 May

Ben Brooks
Stewart Home
Juanjo Sáez
Tobi Vail

Saturday 5 May

«Harto de todo: Que pagui Pujol!» (Jordi Llansamà, Joni D. and Jordi Valls)
Manolo Vázquez
Jonathan Ames
Antonio Luque and Jota
Els Surfing Sirles


Participants: Jonathan Ames, Ben Brooks, Stewart Home, Javier Calvo, Tobi Vail, Juanjo Sáez, Darío Adanti, Manolo Vázquez, Antonio Luque and Jota, Harto de todo: Que pagui Pujol! (Jordi Llansamà, Joni D. and Jordi Valls), Els Surfing Sirles
Directors: Kiko Amat, Miqui Otero
This activity is part of Primera Persona
Related contents
With Manolo Vázquez, Miki Otero and Jonathan Ames
You might also be interested in
Creation Based on the Word and the Scene