1989. Europe, Twenty Years on from the Fall of the Wall
Debate
Free
The fall of the Berlin Wall in 1989 gave cause for hope that the world might thenceforth be less divided and free of totalitarianism. The politics and economies of the Eastern European countries were transformed but the event also constituted a symbolic and cultural landmark that went beyond the limits of the continent. Twenty years later, democracy has taken the form of rampant capitalism in the Eastern countries of the continent while social and political walls are being raised in a Europe that is formally unified. The aim of this debate is to reflect on Europe's present and future, taking this key event of our recent history as the point of reference.


Monday 19 October, at 7 p.m.

The Meaning of the Fall of the Berlin Wall
Norman Manea. Romanian writer, author inter alia of The Black Envelope (Northwestern University Press, 1996), recently published in Spanish as El sobre negro (Tusquets, 2008).
Jean Daniel. French journalist and writer, director of Le Nouvel Observateur.
Prsenter and moderator: Josep Ramoneda, philosopher and writer.

Thursday 22 October, at 7 p.m.

PREVIEW: Revolució #2: Retorn als escenaris (Revolution #2: Back to the Scene)
A documentary by Carles Bosch (Cromosoma, Televisió de Catalunya and ?eská televize, 2009). 90 min. Original language version with subtitles in Catalan.
In 1989, Carles Bosch was the only foreign journalist who filmed the last days of the totalitarian regime in Czechoslovakia. Twenty years later, some of the leading figures of the Velvet Revolution, once again before his camera, offer a bittersweet account of their experience of democracy and wonder if their efforts and sacrifices might have been in vain. The new documentary includes an exclusive interview with Václav Havel, playwright, leader of the Revolution and former president of the Czech Republic.
After the screening, debate with Carles Bosch and Monika Zgustová.

Monday 26 October, at 7 p.m.

The Generation of 1989
Václav Bartuska. Czech writer, student leader in the Velvet Revolution.
Dirk Laucke. German playwright.
Jordi Puntí. Writer. His latest novel Maletes perdudes (Lost Luggage) is about to appear.
Presenter and moderator: Olga Merino, journalist and writer.

Thursday 29 October, at 7 p.m.

The Correspondents' Gaze
Joseph Hanimann. Swiss-German journalist, Paris correspondent of Frankfurter Allgemeine Zeitung.
Victor Erofeyev. Russian journalist, writer and one of the most outstanding figures of the clandestine literary world of the former USSR.
Adam Krzeminski. A journalist, he is editor of Poland's most influential weekly, Polityka.
Josep Maria Martí Font. Journalist, correspondent in Germany in 1989 and author of El día que acabó el siglo XX. La caída del muro de Berlín (The Day the 20th Century Came to an End: The Fall of the Berlin Wall, Anagrama, 1999).
Presenter and moderator: Llibert Ferri, journalist, TV3 correspondent in Central and Eastern Europe from 1987 to 2007.

Monday 2 November, at 7 p.m.

The Long Shadows of Dictatorship
Screening of the documentary Mein Bruder. We'll Meet Again, by Thomas Heise (Germany, 2004-2005, 57 min. Original language version with Spanish subtitles). This film portrays the unusual friendship between a former Stasi spy and his victim.
Debate with Joachim Gauck, director of the Stasi Archive from 1990 to 2000.
Presenter and moderator: Marició Janué, lecturer in Contemporary History at the Pompeu Fabra University of Barcelona.

Monday 9 November, at 7 p.m.

The Old and New Walls of Europe
Juan Goytisolo. Writer.
Tzvetan Todorov. A critic, historian and philosopher.
Presenter and moderator: Monika Zgustová, writer.

Thursday 12 November, at 7 p.m.

DRAMATISED READING: Berlin/Wall by David Hare
In this closing session of the cycle, the actors Jordi Dauder and Vicky Peña will read two monologues by the eminent British playwright David Hare. The first, Berlin, moves through the streets of a city which, suffused with historical meaning, has opted for a leisurely, laid-back existence while Wall offers a reflective, critical itinerary along one of the various frontiers that have sprung up in the world since 1989: the wall between Israel and Palestine.
Actors: Jordi Dauder and Vicky Peña. Director: Xavier Albertí. Translation: Víctor Muñoz i Calafell.
Moderators: Josep Ramoneda, Olga Merino, Llibert Ferri, Marició Janué, Monika Zgustova
Participants: Norman Manea, Jean Daniel, Václav Bartuska, Dirk Laucke, Jordi Puntí, Joseph Hanimann, Viktor Ierofeiev, Adam Krzeminski, Josep Maria Martí Font, Joachim Gauck, Juan Goytisolo, Tzvetan Todorov, Carles Bosch, Jordi Dauder, Vicky Peña
Related contents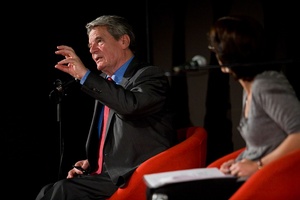 Centre Documentació i Debat
Conference with Joachim Gauck
You might also be interested in
Democratising the Internet