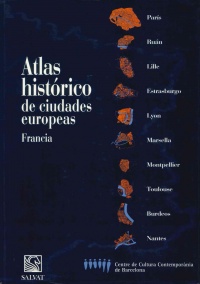 Atlas histórico de ciudades europeas, vol. II
Comparative urban history of the principal French cities: Paris, Rouen, Lille, Strasbourg, Lyons, Marseilles, Montpellier, Toulouse, Bordeaux and Nantes.

Direction: Jean-Luc Pinol.
Authors:
Jean-Luc Pinol
,
Manuel Guardia
, Javier Monclús, José Luis Oyón
Publication year: 1996
Pages: 322
Dimensions: 25 × 35 cm.
Images in B/W and colour: 400
ISSN
978-84-345-5681-2 (castellano)
Edition
1996