Each Layer of the Atmosphere. A journey through the sounds of the planet
Podcast and sound installation
Audiovisuals
Free
Artist Maria Arnal and curator and researcher José Luis de Vicente present a sound essay on the marks left by the climate crisis. This original combination of musical compositions, insightful learning and original thought will be available for download as a four-episode podcast and will also feature as a sound installation at the CCCB.
Each Layer of the Atmosphere is a series of four 30-minute chapters in which singer Maria Arnal and curator José Luis de Vicente embark on a thrilling journey through the sounds of the Anthropocene, taking in natural spaces, heritage sites, industrial architecture, laboratories and research centres. They will be joined on the way by philosophers, scientists, musicians, naturalists and researchers from a range of different fields, from astrophysics and bioacoustics to artificial intelligence and apiculture.
Each Layer of the Atmosphere is an innovative four-part sound essay produced by the CCCB to showcase experimentation in new digital formats. The series has been recorded in binaural format to capture the acoustic properties of each site in high fidelity. It combines insightful learning and original thought with field recordings and live music performed by Maria Arnal at different locations.
Available as an online podcast from 13 September. New chapters will be realeased each every Tuesday.
Sound installation at the CCCB from 13 September until 16 October.
"The sound of the earth in the third decade of the 21st century is the soundtrack to a planet undergoing a far-reaching mutation, with voices echoing through the air we breathe and on the wind that carries them. From the cacophony created by cargo ships in the ocean depths, which deafens and disorients whales, to the particle pollution that has found its way into church organ pipes in our cities, climate change is leaving its sound prints all around the world. Might hearing them for ourselves give us a clearer idea of the magnitude of the present and future changes we face?" Maria Arnal and José Luis de Vicente.
Related contents
Podcast by Maria Arnal and José Luis de Vicente
...
Podcast by Maria Arnal and José Luis de Vicente
On how to feel and think at a planetary level and synchronising the pace of human life with the rhythm of other lifeforms on the planet. With astrophysicist Ignasi Ribas, anthropologist Yayo Herrero, AI engineering expert Ulises Cortés and producer and composer Holly Herndon. Recorded ...
You might also be interested in
29th Barcelona Independent Film Festival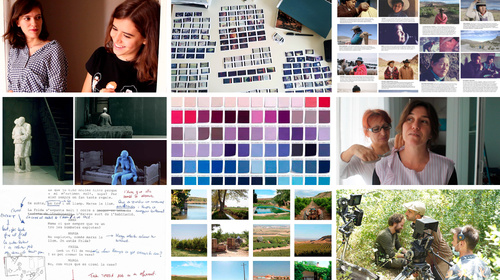 Meritxell Colell, Mikel Gurrea, Celia Rico and Jonás Trueba