Symbiotic Itineraries
Thinking with the invasive species
A walk through the Llobregat Delta, with Christian Alonso and Vicky Benítez
Itineraries + Courses and workshops
Researcher and curator Christian Alonso together with artist and gardener Vicky Benítez propose a perceptive walk along the delta of the Llobregat River. This environment of extraordinary eco-social value is suffering a profound imbalance due to the changes brought about by the neoriberal developmental model of the city of Barcelona. By situating what is invasive and native in the broad socioeconomic context, we will follow an itinerary that reveals the strong bonds between species, the fragility of the wetland ecosystems, the disturbance to its ecosystems and the need to rethink our coexistence with non-human organisms.
This activity is organised in collaboration with Grup de treball sobre les ecologies híbrides del Delta del Llobregat (Working group​ on the hybrid ecologies of the Llobregat Delta).
This activity is part of S+T+ARTS - Repairing the Present.
Upcoming activities at the CCCB
Science and creation for secondary schools with the Center for Brain and Cognition (UPF) and Escola JOSO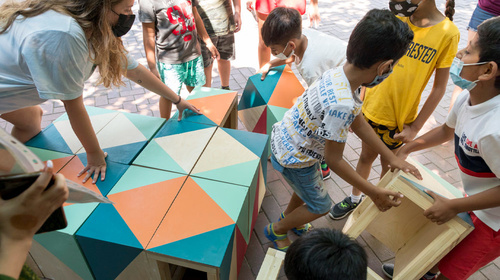 A community project with children and young people from the Raval