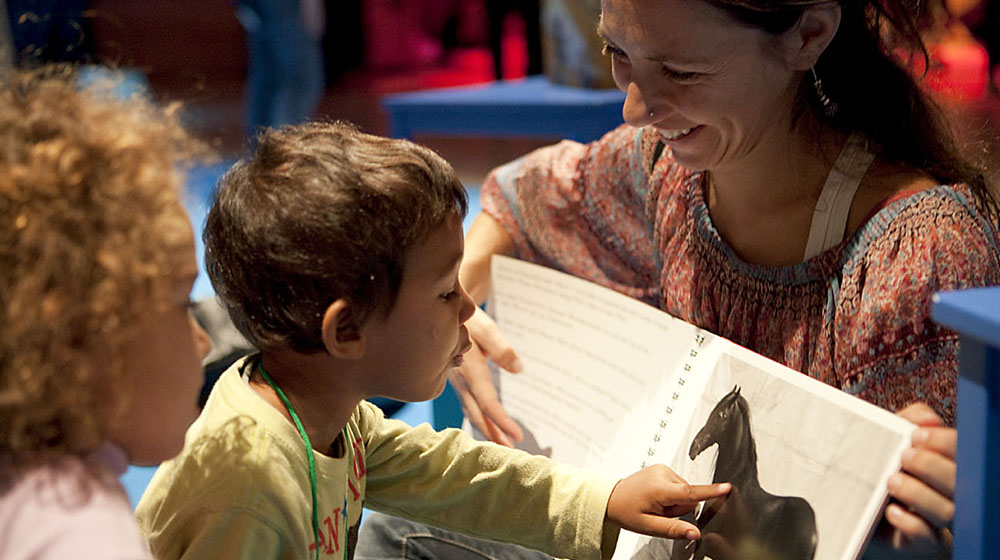 Following the government recommendations, the workshops on 18, 25 July an 1 August have been cancelled.
Family Programme
Encounters around Reading
Education
Free
This month of July we're setting up an open admission space in the Women's Courtyard to promote literature as a tool for learning and reflection. Every week, we propose a workshop or show inspired by a book. At these meetings, aimed at families, young people and kids, you can talk to authors, illustrators and narrators about art, film, photography, dance, architecture, feminisms and science.
Program curated by anthropologist and specialist in children's literature Anna Juan Cantavella.
4 July - 18:00
Neither you nor me. A story of neighbourliness
Based around the book Veïns by Àngel Burgas, Ignasi Blanch and Anna Aparicio (Babulinka).
Workshop facilitated and run by Anna Aparicio.
The city is a place to play... and also a place of conflict. In this workshop we'll meet two children who live in a book, one on the right page and one on the left, separated by the fold. Two lives, two worlds, two ways of seeing. But what if they dared to cross the fold and flank the border?
As we listen to this story, we'll take part in a live creation by one of the illustrators of the work and experiment with colours and shapes to transform ways of seeing as we play.
11 July - 18:00
Cartography of my body
Based around the book by Yagyu Genichiro, Costras (Media Vaca).
Workshop facilitated and run by Natàlia d'Oh! Contes.
From head to toe, our body as a territory. We are a space in which to imagine a thousand adventures, tread unknown paths and explore distant places.
With the books from the El mapa de mi cuerpo collection (Media Vaca) as our passports, we set out on a fabulous journey, the longest and also the closest, around the confines of our bodies.
18 July - 18:00
African Meninas: on leadership, resistance and the right to defence - CANCELLED
Based around the book by Karo Moret, Rachel Gato, Ana Cebrián and Sara Fratini African-meninas: liderazgo femenino africano (Wanafrika).
Workshop facilitated and run by Rachel Gato.
How many references of African and Afro-descendant women do we have? How many do we remember from our childhood?
African-meninas brings together 30 biographies of legendary and contemporary political and social leaders, scientists, sportswomen and philosophers from the vast and diverse African geography.
The workshop is designed as a space for reflection with dramatized readings to learn about fragments of their lives, and talk about leadership, migration and resistance.
25 July - 18:00
Sighting monsters: a bestiary of the 21st century - CANCELLED
Based around the book by Marie G. Rohde, SOS Monstres de veritat amenacen el planeta (Zahorí books).
Workshop facilitated and run by the author, Marie G. Rohde.
The Bestiary was the Pokémon album of the old days. It was full of horrible monsters that embodied everything people were afraid of or couldn't explain. Today, monsters are back, roaming the planet: they fly over our heads, lie in the depths of the sea and even hide in the sewers of Barcelona. Who are they? What do they eat? Why do they like living among us? Will we be able to recognise them? Marie G. Rohde, monster specialist and author of SOS Monstres de veritat, suggests we create a Bestiary to identify the monsters of the twenty-first century.
1 August - 18:00
The house of the wind
Based around the book by Ana Cristina Herreros and Jesús Gabán, Paporco (Libros de las malas compañías).
Storytelling with objects by Sherezade Bardají.
Without wings I touch you and you can't see me;
I speak without a mouth and I walk without feet.
Who am I? Welcome to my house!

On Fridays throughout July, sessions for social organizations
If you're a social organization and you're interested in attending the Meetings about Reading, we offer special sessions of each workshop on Friday mornings at 11:30. To take part, fill in this form. Places will be allocated according to criteria of proximity and equity.
3 July, 11.30 - "Neither you nor me. A story of neighbourliness"
10 July, 11.30 - "Cartography of my body"
17 July, 11.30 - "African Meninas: on leadership, resistance and the right to defence" - CANCELLED
24 July, 11.30 - "Sighting monsters: a bestiary of the 21st century" - CANCELLED
31 July, 11.30 - "The house of the wind"
You might also be interested in
2020-2021 Course activities
Self-portrait workshop in family
Documentary animation workshop and creation of a collective film