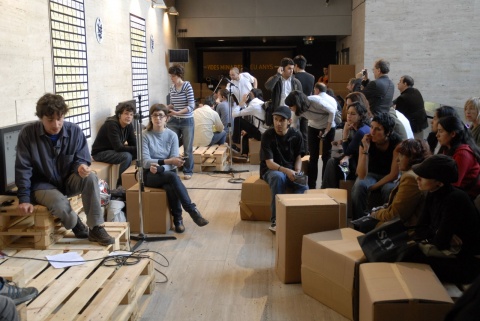 NOW 2008
BCC - Bank of Common Knowledge (BCC)
A project by Platoniq
Courses and workshops + Festivals
Free
Where and how do we gather and share what we know?


The Bank of Common Knowledge began in 2006 as a laboratory of citizen-to-citizen mutual education rooted in the expansion of free software, social networks and p2p filesharing systems.
This second public action of the BCC takes the form of a market for the exchange of free knowledge: consultations, take-away theories, audiovisual manuals and live demos, with the aim of sharing information, experiences and useful tools geared toward achieving more independence in everyday life and taking advantage of shared resources.
We all have something to learn. We all have something to teach. Make an offer, recommend it to someone or request information at:
bcc@platoniq.net
http://www.platoniq.net/bcc
You might also be interested in
Creation of a collective digital work with Carlos Carbonell
With researcher Fernando Cucchietti
With researcher Mariano Vázquez