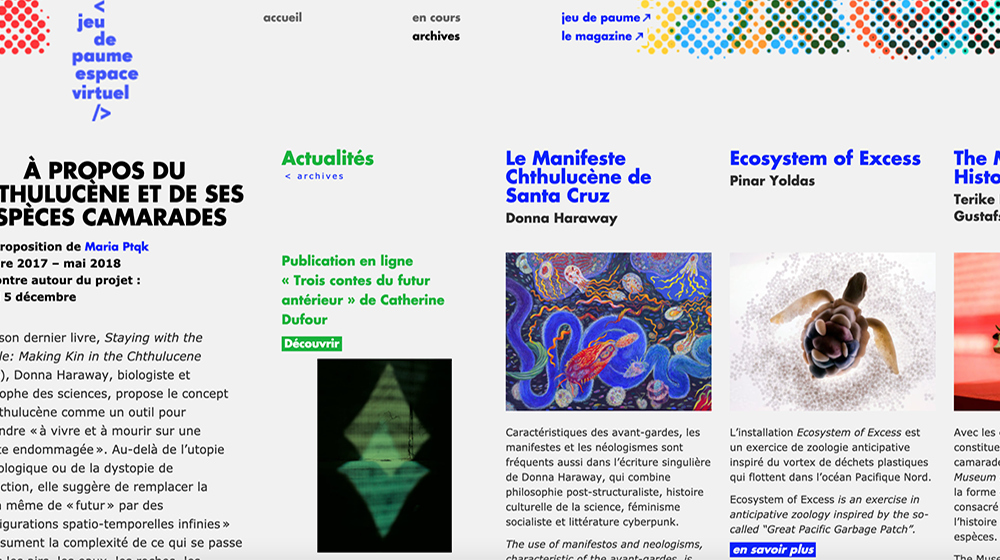 Science Friction
Living Among Companion Species
Paris / Jeu de Paume, Paris.
Jeu de Paume supports online artistic creation by presenting artists' projects created especially for the "Espace Virtuel" of jeudepaume.org. Within the framework of these commissions, Maria Ptqk created the project "À propos du Chthulucène et de ses espèces camarades" based on Donna Haraway's book Staying with the Trouble: Making Kin in the Chthulucene (2016). In this work, Haraway uses the Chthulucene concept as a tool for learning to "live and die on a wounded planet". Beyond technological utopia or the dystopia of extinction, she suggests replacing the notion of "future" with "infinite spatio-temporal configurations" that assume the complexity of what happens "in the air, the waters, the rocks, the oceans and the atmosphere". Configurations that explain the history of evolution with a deliberately marginal tone, like a knot of intertwined narratives, resulting from a process of collaborative survival.
The CCCB commissioned Maria Ptqk to continue the research begun in Paris and to transform the virtual exhibition proposal into a tangible project. "Science Friction. Life between companion species" is based on the scientific evidence that all terrestrial species are linked by symbiotic and interdependent relationships. To tell the story of this change of perspective, the exhibition is now inspired by the work of two key figures in contemporary scientific culture: Donna Haraway and Lynn Margulis.