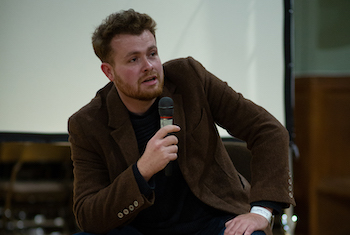 Scott Barley
Scott Barley is a British artist and filmmaker from South Wales, UK. His work has been associated with the Remodernist and Slow Cinema movements. His films are primarily concerned with the anthropocene, nature, cosmology, phenomenology, and mysticism, and have been compared with the sensibilities of Stan Brakhage, Philippe Grandrieux, Béla Tarr, Maya Deren, and Jean Epstein.
Since early 2015, Barley has exclusively shot his films on iPhone. His short film, Hinterlands was voted one of the best films of 2016 in Sight & Sound's yearly film poll. His first feature-length work, Sleep Has Her House was released in early 2017, garnering universal acclaim, and winning Best Film — Official Jury award at Fronteira International Documentary & Experimental Film Festival, in Goiânia, Brazil. It later received nominations in other relevant film polls for Best Film, Best First Feature, and Best Director.
His work has been screened across Europe and The Americas, including the Institute of Contemporary Arts of London, BFI Southbank, Sheffield Doc/Fest, Doclisboa, Karlovy Vary IFF, Dokufest, EYE Filmmuseum, Vancouver International Film Centre, Museu de Arte Moderna of Rio de Janeiro or Museo de Arte Contemporáneo de Buenos Aires. His visual practice and research has been used as educational material on undergraduate, postgraduate, and PhD courses at UCLA Arts: School of the Arts and Architecture of Los Angeles or Université Sorbonne Nouvelle — Paris 3, among many others.
Scott Barley participates in the 2018 «path of return» and 2019 «Around darkness» editions of OVNI at CCCB.