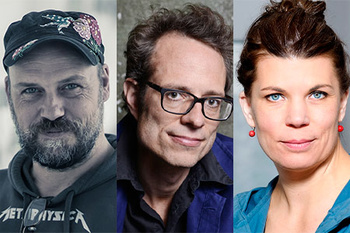 Rimini Protokoll
Rimini Protokoll is the label of the works of Helgard Haug, Stefan Kaegi and Daniel Wetzel. They produce documentary theatre pieces, radio shows and work in the urban environment in a diverse variety of collaborative partnerships. Using research, auditions and conceptual processes, allowing what they call 'experts' to find their unique voice.
Works include Call Cutta in a Box, a live interaction between an indian Call Centre and staged offices in museums or theatres; Lagos Business Angels with Nigerian business people; the multi player video piece Situation Rooms; 100% City, with a sample of 100 citizens on stage as well as Weltklimakonferenz, a simulation of the UN Conference on climate change, or Homevisit Europe, a staged intervention in hundreds of living rooms all around the world.
In 2008, Rimini Protokoll have been awarded with the European prize for New Realities in Theatre. In 2011 they were awarded the Silver Lion of the 41th Biennale of Venice, established to honour new theatrical realities and in 2015 the Grand Prix of Swiss Theatre.
At CCCB the collective has presented the interactive installation win > < win (2017), a work produced with the CCCB as part of the exhibition "After the End of the World" focusing on the jellyfish and its ability to survive in increasingly challenging natural circumstances. With "Urban Nature" (2021), the CCCB has tasked Rimini Protokoll and the stage designer Dominic Huber with a new project which reimagines interaction with the public and the use of digital elements in the exhibition rooms, and which reinforces the highly performative nature of the exhibitions.