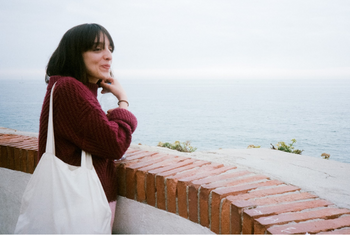 Conxita Herrero Delfa
Artist and comic book author
Conxita Herrero draws, creates fanzines, and writes poems and songs. She likes cooking, reading, riding her bike, watching films, cats and talking on the telephone. She always has lots of ideas going around in her head and is interested in anything related to art, education or feminism.


She is a freelance illustration for national and international media such as El País, Diari Ara, Revista Granta and Guernica Magazine, for publishers such as Blackie Books, Fosfatina, Kus and Fantagraphics, and for institutions such as Barcelona Provincial Council, Gipuzkoa Provincial Council and El Prat de Llobregat Council.
In 2016, Barcelona publisher Apa-Apa cómics published her first book, Gran bola de helado (Big Scoop of Ice Cream), published in France by Rackham in spring 2017, and in Italy by Hoppípolla in autumn 2018.
In 2017 she was nominated Best Newcomer at the comic fairs of Madrid and Barcelona.

In 2016 she was selected by Madrid's Sala de Arte Joven for the CITI project. In 2017 she took part in the City in Vignettes cycle (Centro Centro Cibeles, Madrid) curated by Ana Galvañ, and in 2018 in the group exhibition Global Alt Comics (New Jersey) alongside authors such as Powerpaola and Gabrielle Bell.

She has participated as a creator in official drawing and comic book events such as Revolta en el còmic (2018, MACBA), Big Draw (2018, Barcelona City Council) and Telaraña (2022, Centro Cibeles), and as a speaker at various round tables on self-publishing and feminism on the alternative Spanish circuit, where she has also taken part as a seller: Gutterfest (Barcelona), PUMPK (Pamplona), Tenderete (Valencia), Graf (Madrid), BALA (Bilbao), Guillotina (San Sebastian) and Gropo-Gropo (Pontevedra).


She has worked as an educator, facilitating workshops in schools during the international narrative festival Cuéntalo (2019, Logroño) and has dynamized guided visits for schools for UNZIP (2017, 2018, El Prat de Llobregat). She has given comic book art classes at the Istituto Europeo di Design (2018, Madrid) and workshops at official institutions such as Tabakalera (2017, San Sebastian).

In 2017, the Madrid label Elefant Records released Abducida por formar una pareja, the first disc by Tronco, the music group she set up with her brother Fermí. In 2018 Tralará, their second disc, was released, followed in 2021 by the third, Nainonai.

She currently lives in El Prat de Llobregat with her family and combines her work as an illustrator with developing her upcoming publishing and recording projects.