Borja Bagunyà
Winner of the Mercè Rodoreda Prize and a prominent voice of the Catalan generation born in the eighties.
Borja Bagunyà (Barcelona, 1982) is a writer and lectures in Literary Theory and Comparative Literature at the University of Barcelona. He wrote his first book of narrative at the age of 19–published in 2004, Apunts per al retrat d'una ciutat– and in 2007 won the Mercè Rodoreda Prize for Defensa pròpia (Proa), a volume of short stories that also received the prize to the best new author by the television programme QWERTY. Bagunyà combines writing with lecturing.
Plantes d'interior (Empúries, 2011), his third book, inspired the director Carlos Marques-Marcet to work on a script based on one of the short stories in the volume, La perspectiva adequada. Bagunyà's latest book is Els angles morts (Periscopi, 2021).
Contents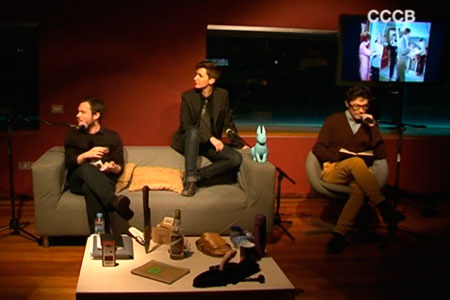 Dialogue with Bel Olid and Borja Bagunyà.
Has participated in
The Stomach of the Writers (2). Can't Catalan literature stomach excess?