Adriano Galante
Creator, musician and writer
Adriano Galante is a singer, musician and founder of Seward, the sound, performance and free song action collective. Since 2005, Galante has found his place in the intersection of collective creation, interdisciplinary interpretation, critical thinking, community management and artistic curatorship, collaborating with artists such as Núria Giménez Lorang, Javier Gallego, Sara Fontán, Jordi Oriol, Denise Duncan, Marc Vilanova, Silvia Pérez Cruz, Txalo Toloza, Andrea Soto, B1N0, Adriana Vila, Za, Marina Herlop, Adrián Vega, Pol Batlle, Alba G. Corral, Refree, and Judit and Meritxell Neddermann.
He has also promoted projects such as "No Callarem", a campaign for freedom of expression; the Caixa de Ressonància platform and the music documentary ART.490. In the last few years, Galante has worked as coordinator of the BAM Cultura Viva community festival and Línia Cultural Ramblas, and collaborated with the Konvent creation centre, the Artists At Risk organization for the defence of rights, the CCCB's Journey to Mars literary project, Nativa publication, Gandula records, the EINESS cycle, Bacana booking agency, and the cooperatives La Murga and Bitlab.
Adriano's recent premieres include the performative talk Entrar a vivir at the Teatre Lliure and the show Demoledora at L'Auditori de Barcelona, sharing a stage, direction and creation with David Climent (loscorderos.sc), Alessia Schoor and Sara Serrano; and the meeting of poetry and music Nosaltres, Foc with Mireia Calafell and Pol Guasch at the Palau de la Música. Likewise, he is preparing his first disc in Spanish and has just published Mediante (Arrebato Libros), the first published book (17thwritten) of the 23 in his unpublished poetry collection Preposicionarse, which he started writing in 2006 and will complete in 2029.
Contents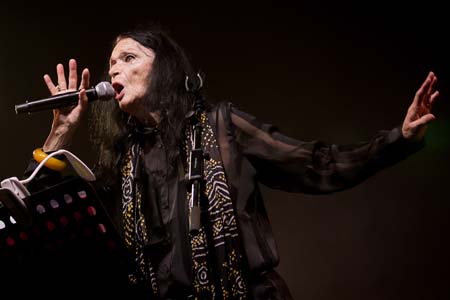 "Star at Midnight", poetry recital
Alpha Omar Diallo, Denise Duncan, Mohamed El-Qadiry, Adriano Galante and Tanit Plana
Has participated in
"Star at Midnight", poetry recital with Eduard Escoffet, Adriano Galante, Los Sara Fontán, and Pablo Volt