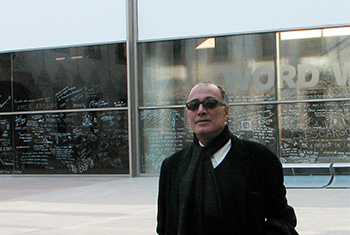 Abbas Kiarostami
Filmmaker, poet, painter, photographer and artist
Abbas Kiarostami was one of the greatest contemporary filmmakers. After a modest and patient start to his career, when he made educational films for and about the children from his country, Iran, he gradually built a reputation with his first feature films: Where is my Friend's House? (1987), Close Up (1990), And Life Goes On (1992), Through the Olive Trees (1994). This set of films represents some of the greatest innovations in the field of new narrative cinema, particularly with regard to the role of the actors in the dramatic structure of the films.
Kiarostami has garnered international recognition, including the Palme d'Or at the 1997 Cannes Festival for Taste of Cherry, but this hasn't prevented him from pursuing an ever more personal body of work, which includes full-length features (The Wind Will Carry Us, 1999), a documentary (ABC Africa, 2001), films shot with mini-DV cameras (Ten, 2002, Five, 2004), museum installations, photographic exhibitions and books of poetry. In 2010, he finally completed a long-term project, the feature Certified Copy, which was filmed in Italy and stars Juliette Binoche, who won the Best Actress Award at the Cannes Festival. The film reflects on originals and copies in art, and evolves towards the mutability of male-female relationships and the passing of time, which is shown on the actress's face.
His last film was Like someone in love (2012). He died on July 4 in Paris.