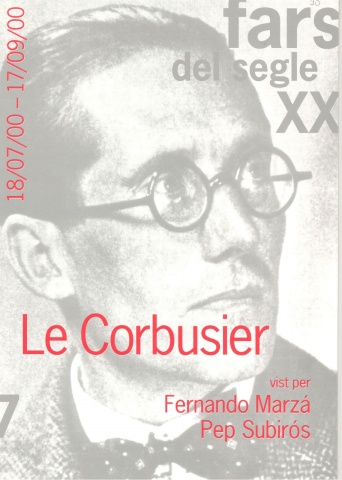 Leading Lights of the 20th Century
Exhibition
Leading lights Le Corbusier
Seen by: Fernando Marzá and Pep Subirós
"Man of letters" was how the passport of Le Corbusier(1887-1965) summarized his complex professional personality. It might also have read artist, architect, urbanist, painter, inventor, designer, philosopher, writer, poet, lecturer, agitator, polemicist, promoter or organizer, as his activities in all of these fields was extensive and intense. But he chose man of letters, or man of ideas. Despite being principally known for his creations in the field of architecture and urbanism, he said himself that it is not new things but new ideas that have changed the world, since things are merely the detectors of thought ("Défense de l'Architecture", 1929).
Indeed, in addition to conceiving, designing and constructing a body of architectural and urbanistic work of extraordinary importance and singular quality, Le Corbusier was an original thinker, a prolific writer and an untiring cultural agitator who, throughout his life, sought to cast light-sometimes dazzling us-on the rocks where architecture and the traditional city so often came to grief, and proposed alternative routes. If "leading light of the 20th century" is an appropriate metaphor for anyone in the field of architecture and urbanism, surely it is Le Corbusier.
The CCCB aims not to present his character in all its complexity, but to highlight and illustrate three aspects of his work and his influence: the radically provocative nature of his theoretical work; the principal technical and conceptual innovations implemented in his built projects and designs, and, finally, the exploitation of them by unscrupulous planners, developers and politicians.