School in residence
Education and culture in the Raval
Education
The CCCB's permanent program that opens a space for experimentation and learning on how to break down the boundaries between education and culture.
The CCCB and the high complexity institute of the Raval district Miquel Tarradell, work together throughout the school year to offer 50 students of 14-15 years old a multidisciplinary program around different axis of content key to understand our contemporary world, from climate emergency to the form of the city, gender and race discrimination or the relationship between art, memory and politics. Young people move to the CCCB three days a week, get to know the institution from the inside and take part in talks, workshops, creative and thought projects with their teachers, the centre's teams and the network of cultural creators, researchers and producers associated with the CCCB. 
The project has been recognized with one of the 2021 Baldiri Reixac Connexions awards, a category with which the Carulla Foundation promotes collaboration projects between cultural facilities and educational centers that have culture and the arts as the backbone.
Related contents
Sistemes de suport vital en una base marciana. Imaginar des de la ciència ficció.
Would it be possible to live on Mars? How would we adapt to its environment? Do we have the right to do so? These are questions of scientific speculation that bridge the gap with science fiction. A genre that allows us to expand the scenarios of what is and is not possible today to launch ourselves in search of a more complex and profound sense of Humanity.
We speak with the organisers and students taking part in the "School in residence" project, a joint educational programme run by the CCCB and the Miquel Tarradell high complexity institute of the Raval district (Barcelona). Due to the pandemic and the need to expand the space available at primary and secondary schools, 50 year-10 students come to the CCCB three days a week.
You might also be interested in
Create and animate your own imaginary creatures
Guided tour with the family and track game in the exhibition "Science Friction. Life between companion species"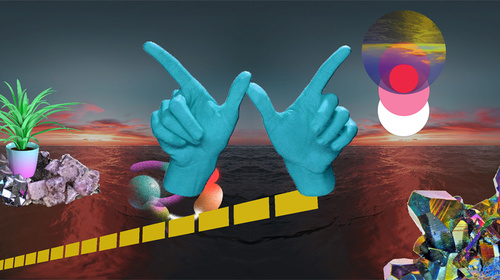 Collective creation of a virtual reality environment