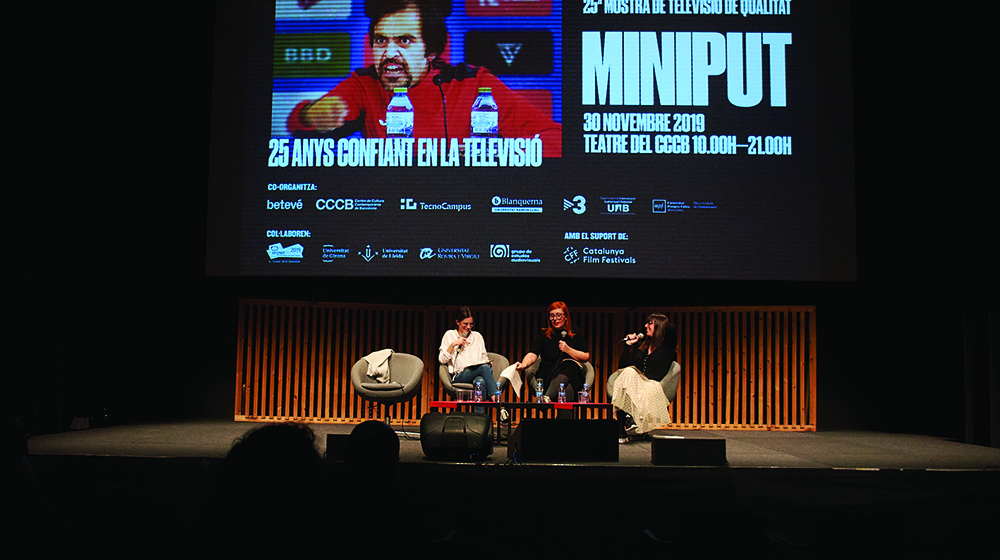 MINIPUT
MINIPUT 2020
26th Quality TV Festival
Audiovisuals
Online
The MINIPUT, the only exhibition show on quality television in the Spanish state, celebrates this year its 26th edition by streaming. The link will be available the day before on the festival website.
The MINIPUT presents the most innovative, provocative and public service-oriented programs of the year. The projects, presented during the show by their managers, are selected for their committed or experimental approach, because they propose a new television format or because they make use of new technologies.
All programs are broadcast in OV with English subtitles.
PROGRAM.
The schedule may undergo changes due to the security measures adopted by the Covid-19.
To see the updated version, check the website.
SESSION 1 (10.00 - 11.30):
10.00
PRESENTATION
Led by Francesc Escribano (national coordinator of INPUT) and Montse Pujol Solà (coordinator of MINIPUT).
10.15
RADIO FACE
North Ireland, 29', reality, BBC One Northern Ireland
Present: Anna Rotger and Sergi Molina (estudiantes UB)
This reality format turns radio callers into television stars. People love to argue, debate, share stories, question, and talk in general. On this fast-paced show, phone callers become national celebrities as they are filmed discussing the big issues of the day with a well-known talk show host. A recurring group of quirky, funny, opinionated and argumentative members of the audience star in the series expressing their opinions as we get to know them first-hand. Led by a charismatic host, each show features four stories that have made headlines. With cameras placed in cars and taxis, dining rooms and kitchens, gyms and offices, viewers get a unique insight into the everyday lives of callers. A huge audience and social media hit on the BBC Northern Ireland.

10.50
OUR LAND
Finland, 16 ', interactive experiment, Yle
Present: Bruno Gallardo (UPF student)
Debate via videoconference with Harto Hänninen (project manager)
This is an experiment in which Yle, the Finnish public television, opened its archives to the public. Everyone could participate and re-edit or modify the footage as they wanted. The aim of the project was to get a fresh look at Finland and the Finns. 372 shorts were received, more than expected. People of all ages and from all fields participated, with very creative pieces that speak of the present, the past and the future of Finland. All the shorts were published and are still available on Yle Areena. The project could also be seen in museums in Finland. Six 30-minute episodes were broadcast on television, each one focused on a specific topic.

SESSION 2 (11.45 - 13.20):

11.45
PHONE OF THE WIND: WHISPERS TO LOST FAMILIES
Japan, 49', documental, NHK
Presents: Natxo Garrido (clinical psychologist at the Hospital Universitari Mútua Terrassa)
In a Japanese town destroyed by the March 2011 tsunami there is a booth with a telephone that is not connected. It is the "wind phone" where people go to call their loved ones who died in the tsunami. The townspeople watch some communities rebuild, but others are still grieving and unable to move forward with their lives. For them, the "wind phone" is a way to open up their feelings and begin to grieve. This documentary allows viewers to hear some of the emotional messages of the people who use this "wind telephone."

12.45
THE SECRET DIARY OF HENDRIK GROEN
Netherlands, 32 ', fiction series, Omroep MAX
Presents: Cristina Froilan (UAB student)
Hendrik Groen may be older, but he's not dead yet, and he's not planning to do so soon. It is true, his daily walks are getting shorter and he visits the doctor often. Technically, he is an old man. But why should your life consist only of drinking coffee in the residence and waiting for the end? Hendrik Groen shows us his residence and all the pros and cons of living in it. He has a great sense of humor and is not afraid to show how things are at the residence. With his group of friends he tries to add a little color to his life and they go out to go to casinos or to painting classes, which the management does not like. It is January 1st. A new year begins and Hendrik faces it with a small change: he begins to write a personal diary.

SESSION 3 (13.35 - 15.15):

13.35
WELCOME TO LEITH
United States, 86', documental, PBS
Presents: Alba Sidera (journalist and author of the book Feixisme Persistent)
The documentary narrates the attempted appropriation of a small town in North Dakota by the famous white supremacist Craig Cobb. As their behavior grows more threatening, tensions rise and residents desperately search for ways to expel their unwanted new neighbor. The filmmakers ask themselves some questions: what to do when a white supremacist comes to town? How do you discover that it is? How to portray it and how much space is it given within the film?
SESSION 4 (15.45 - 17.00):

15.45
SPECIAL VIDEO GAMES SESSION
Presented by: Roc Massaguer (specialized journalist and youtuber specialized in video games)
Videoconference debate with Tonny Christensen and Lasse Jørgensen (creators and directors of Ragnarok)
RAGNAROK
Denmark, 32 ', eSport live, DR (10' excerpt)
Public broadcasters in Denmark, Norway and Finland are collaborating on this live eSports broadcast, an event that brought together audiences on Minecraft, Instagram, YouTube, television networks and their respective web pages and applications. Three national teams (one from each country) battle each other in a user-generated Minecraft world, with live commentary from a host and young Minecraft influencers.

NERD: DRAGONSLAYER666
Finland, 14 ', fictional web series, Yle Areena (VOD)
This web series is one of the first to enter the world of eSports. DragonSlayer666, the protagonist of the series, is a dedicated and determined gamer, whose only ambition is to become a professional eSports star. When his mother destroys his computer, DragonSlayer666 is forced to leave his room, face the real world and learn the meaning of friendship and teamwork. This multiplatform series, which has broken audience records, was aimed at a very specific audience group: intensive adolescent gamers. The concept consists of a web series and original scripted content for social networks. The different levels are part of the same narrative and together create an immersive universe. It is the most popular Finnish series in the history of Yle Areena.

16.35
#WORK_IN_PROGRESS
Israel, 20', web series, Channel Hot 8
Presents: Gerard Cobo (Tecnocampus student)
A web series that brings together well-known Israeli youtubers and social activists who belong to different communities in Israeli society. The meeting of these two worlds, so different from each other, presents a surprisingly interesting angle on Israeli society and its many challenges. Youtubers and activists try to start new, complex, funny and moving dialogues, without fear of touching sensitive nerves.
SESIÓN 5 (17.20 - 19.00):

17.15
TECHNOLOGICAL INNOVATIONS ON TV: FROM PATRICE BARRATT TO OPERACIÓN TRIUFO
Presented by: Ingrid Guardiola (UdG) and Mercè Oliva (UPF)
45 '
INPUT was one of the first stages where programs that used new technologies were seen and that took advantage of the reduction and transformation of recording equipment and domestic cameras for creative, narrative and communicative purposes. But television technological innovations have gone one step further over the years. What have been the most notable technological changes in public television in recent decades? How has it affected the content and the place of the viewer? Session by Ingrid Guardiola (UdG, cultural researcher) and Mercè Oliva (UPF).

18.00
THE MOST INNOVATIVE FORMATS IN TIME OF CORONAVIRUS
Presents: Miquel Garcia and Manel Raya (CCMA Formats Laboratory)
60 '
Presentation of a compilation of the most innovative formats from around the world during the last year. The trends and the most transgressive formulas. How have televisions responded to the confinement situation, to the production demands resulting from the pandemic and to the needs to adapt to new social demands? In charge of Miquel Garcia and Manel Raya, from the CCMA Formats Laboratory, a service of the Corporation to observe new trends, good practices and innovation in television.
SESSION 6 (19.15 - 20.45):

19.15
TELEVISIONS: OBLIGATED TO COLLABORATE
Presented by: Àlex Gutiérrez (journalist)
Participants: Maria Escario (RTVE), Sigfrid Gras (TV3), Sergi Vicente (betevé)
45 '
Every television has reacted as best it could to the pandemic. Beyond turning to their informative mission during the first most critical weeks of the pandemic, all have developed actions where a collaborative logic stands out. Some have promoted agreements with the closest cultural and social fabric to offer themselves as a "stage" for concerts or other activities that could not be done in person. Others have coordinated with the educational authorities to alleviate the lack of face-to-face classes with special programming. Representatives of RTVE, TV3 and betevé and a zero row of guests talk about how public televisions have adapted to the adversities of the pandemic.

20.00
SCENARIO 0
Presented by: Manel Jiménez (UPF)
Participants: Juan Carlos Martel (theater director), Carla Simón (film director)
45 '
The session wants to reflect on the relationship between the scene and the screen: as the domestic space, as a live artistic scene, it has generated unpublished audiovisual proposals during confinement. Some of them recover certain television mechanisms; others point to the invention of new formats. The focus is on the creators and what they do to give way to their initiatives. The objective of the session is to explore how the solutions they present end up reinventing the formats.

You might also be interested in
An introduction to analog cinema
27th Barcelona Independent Film Festival