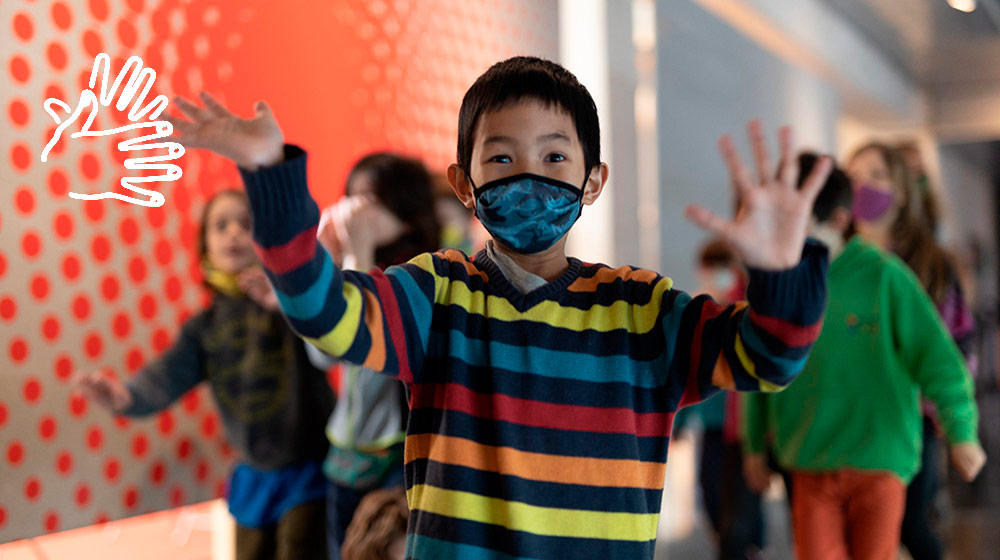 The Mask Never Lies
"Get the powers of the mask!" for children with deafness
With sign language interpretation service
Education
Visit and family role-playing game at the "Mask Never Lies" exhibition, from the age of 6. Through a role-playing game in the exhibition room, we talk about the cover of the face, and what uses various historical figures have given it.
We will become real masked people, heirs to a secret society that has functioned for years thanks to the efforts of anonymous people. We will take on the challenge of continuing their work, but first we need to train and discover the powers of the mask!
The mask allows us to be invisible, to disappear, not to be recognized. The mask transforms us from head to toe, allows us to be other beings and connects us to other worlds, allows us to do things that we are not capable of without masking ourselves. The mask hides a power capable of joining forces, hiding us and becoming a community.
But all power carries a great responsibility! Have you ever worn a mask or face mask? Why did you wear it?
In order to enjoy the activity, we suggest a visit in small groups of a maximum of 3 family units (maximum 5 people per family unit). You can purchase tickets on the proposed dates or arrange a visit for an organized group of up to 15 people on a date to be agreed.
Design of the visit by José y sus hermanas.
Interpretation by FESOCA.
Related contents
Video with audio description, sign language and subtitles (Catalan and Spanish)
In this video, a Catalan Sign Language interpreter explains how to visit the Centre de Cultura Contemporània de Barcelona (CCCB) if you are blind, deaf or have a hearing, visual or cognitive impairment. The interpreter goes over the resources the CCCB offers to enjoy the visit in the ...
You might also be interested in
What Does Being Free Mean?
Voices That Resound in Art
The Power of Poetry: From the Iliad to Rap