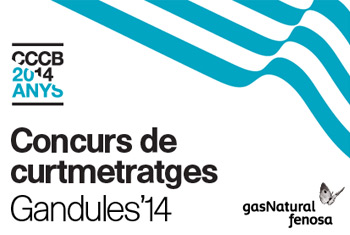 Gandules
Gandules'14 - Gas Natural Fenosa
Short film competition
Audiovisuals
On Barcelona's active audiovisual scene, the CCCB's "Gandules" programme has become something more than a successful summer film cycle — it is a recognised platform for exploring a concept of open, integrative film that combines genres, languages and periods, and provides a testing ground for a new form of cinema that amplifies and expands audiovisual aesthetic tastes.
Continuing with the line of audience participation begun two years ago, we're more convinced than ever that "You are Gandules". To mark the 20th anniversary of the CCCB, we're therefore inviting everyone to take part in a short film competition with the theme of this year's programme: AWAY FROM HOME — emigration, with the mixed fortunes of emigrants to an unknown and sometimes hostile country.
The 20 films shortlisted by the Centre from all the works submitted will be shown on the CCCB's website for public voting. The nine most voted short films will be screened at Gandules'14 sessions. Finally, a panel will select the best short film of the nine finalists, as the winner of a 500-euro prize. The competition is open to everyone, and the period for submitting videos starts on 14 March and ends on 30 May.
Vote here for the nine shorts that we will be screening at each session of Gandules'14 Gas Natural Fenosa. You can vote up until 6 July.
You might also be interested in
International call for films generated with artificial intelligence
with filmmaker Luis Macías (CraterLab)