Kosmopolis
Frankenstein in the Anthropocene
The contemporary relevance of Mary Shelley's novel and its relationship with climate change
Debate
On the occasion of the bicentenary of the book Frankenstein by Mary Shelley and coinciding with the CCCB exhibition "After the End of the World", researchers Dehlia Hannah and Fernando Vidal explore the links of the book with the reflections that accompany the concept of the "Anthropocene".
The novel Frankenstein; or, The Modern Prometheus, by Mary Wollstonecraft Shelley, was published in 1818. Two-hundred years later, it maintains an extraordinary contemporary relevance and its use in debates on the scope and responsibility of science is a constant. It resonates in spheres that range from geo-engineering to neurotechnology, as a means for tackling climate change or to put to work post-humanist ideas.
At this session, researcher and curator Dehlia Hannah will be talking to us about her "A Year Without a Winter", a project that reformulates the relationship between climate, crisis and creation. The title refers to the year 1816, in which Mary Shelley started to write Frankenstein, and known as "the year without a summer" as a consequence of a volcanic eruption in Indonesia that altered the world climate.
Moreover, science historian Fernando Vidal, with his project "Frankenstein and the factory of the human", offers a reading of the work within the history of film to try to break down what the story of Frankenstein teaches us about the way in which we understand the factory of the human, without losing sight of the fact that the creation of hybrid and new forms of life forms part of the Anthropocene, a concept that it defines because of the global impact of human activities on the earth's ecosystems.
You might also be interested in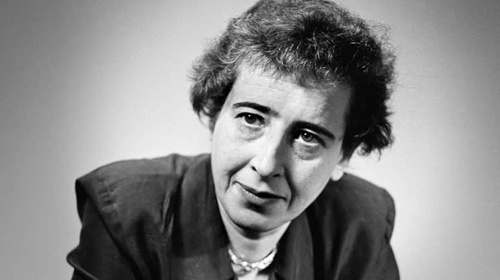 Simona Forti, Zeynep Gambetti and Linda Zerilli
Words inherited from Hannah Arendt