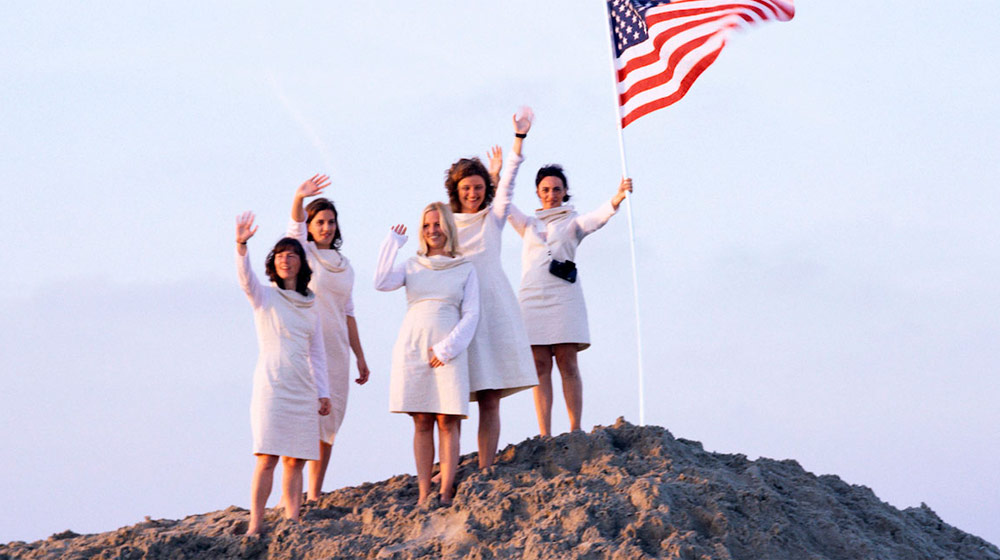 Loop Festival
"First Woman on the Moon" by Aleksandra Mir
LOOP Festival 2019
Audiovisuals + Festivals
Free
What would have happened if the first person to land on the Moon had been a woman? To reflect on this possibility, we are screening the film that documents the performance by Aleksandra Mir that coincided with the 30th anniversary of the first moonwalk by Neil Armstrong.
In the summer of 1999, Aleksandra Mir (Poland, 1967) decided to stage First Woman on the Moon, an ironic performance where she recreated the moon landing on a Dutch beach in a very different way: with a group composed only of women and with a very low budget. Since then, this performance has been presented in many different countries in video format .
First Woman on the Moon constitutes a counter-narrative to the discourse disseminated by the media in that era: space exploration as a solely male achievement. With a basic soundtrack that mixes a typical science-fiction tune with fragments of conversations between President Nixon and the astronauts Armstrong and Aldrin, this screening is presented as a powerful feminist manifesto and a still-relevant demand in favour of gender equality.
You might also be interested in
An introduction to analog cinema
An introduction to experimental cinema