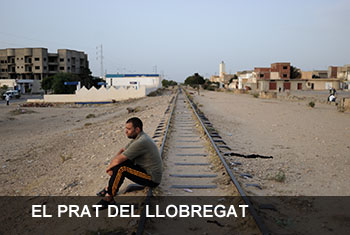 Samuel Aranda
#afterthespring
Cèntric Espai Cultural
This summer, the Cèntric Espai Cultural Prat del Llobregat, is hosting the exhibition of photographs by Samuel Aranda. #afterspring. A project of the Center of Contemporary Culture of Barcelona, curated by the CCCB exhibition Service, Samuel Aranda and Mayte Carrasco. The itinerant exhibition is organized by the Office of Cultural Heritage, in the Presidency Area of the Council of Barcelona.
At the exhibition various elements will be combined within a dual purpose. On the one hand, we want to bring visitors the reality of the Arab countries who staged the "revolutionary" movement called the Arab Spring. On the other hand, showcase the tasks of photojournalists and bloggers within this context, as generators of attention and agents of citizen participation and articulation as well as change.
On June 17th at 19h there is a lecture with the photographer present.
It's now over four years since Arab Spring, when countries like Tunisia, Egypt, Libya and the Yemen all shared the revolutionary spirit that managed to put an end to their dictatorships. The media deploy huge campaigns to cover conflicts when they break out, but what happens when they cease to be news?
Samuel Aranda, winner of World Press Photo of the Year 2011, visited these places when they were at war and then returned a few months later to portray everyday living spaces after the revolutions. Taking his images as a starting point, war reporter Mayte Carrasco set up a conversation with bloggers and journalists to talk about the tensions of transition, political reconstruction, social change and cyberdissidence in these countries, where tensions still run high. The result can be seen at http://despresdelaprimavera.cccb.org, a website that brings together the publications and contributions of a large number of the agents involved and expert opinions.
In a continuing geographical and political context of turmoil, the exhibit shows how the reflections it prompted among bloggers and journalists are still very relevant today.