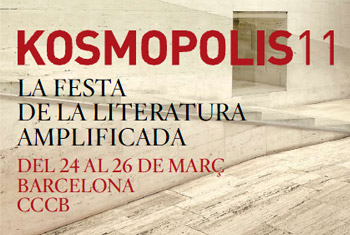 Kosmopolis
Kosmopolis 2011
The Amplified Literature fest
Kosmopolis is celebrating its sixth edition with the arrival of the spring. The Amplified Literature festival begins again.
Each edition confirms that the principals that inspired this activity are thriving. The complexity of the real continues to amplify and literature continues to be the only discourse that does not try to shape the world with ideological clichés, disciplinary limits or absolute norms.

The beginning of the second decade of the 21st century reveals a fascinating scenario. The hegemony of the printed word is starting to lose ground to make way for other older and brand new words. We are witnessing the rebirth of a plural orality and, at the same time, the seismic eruption of the electronic word is altering the way we create, conceive, publish and distribute literature.

K11 is a sensor of these new cartographies generated by the revision of the western cannon, the transformation of genres and formats, the assault on the categories of fiction, the emergence of transmedia narratives, the diversification of reading devices, the appearance of new species of readers and writers, group authorship that is opened up by means of social networks and the explosion of literary creativity that is taking place inside and outside Internet.

Faced with all the crises we are proposing a solar festival with a highly intense programme. A claim for amplified literature in permanent interaction with the arts and the sciences, in an open, mixed and changing world. Let's celebrate the unstoppable journey: the adventure of knowledge, the excitement and the surprise of creating in an open, mixed and changing world.

Related contents
A provocative look at the subject of eating
The writerJonathan Safran Foer presents Comer animales, the Spanish language version of Eating Animals. The author of the successful novels Everything is Illuminated and Extremely Loud and Incredibly Close started writing this book when ...