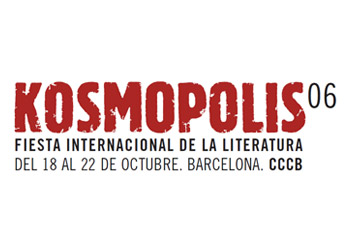 Kosmopolis
Kosmopolis 2006
III International Festival of Literature
An overview of contemporary Russian literature, the profound changes in human relations in recent years, the influence of the digital revolution on ways of approaching the creative act, and the dialectic in force between universal literature and national literatures are the main subjects that provide the backbone structure for the third edition of Kosmopolis.

Juan Insua


Themes of Kosmopolis 2006:
CONTEMPORARY RUSSIAN LITERATURE
INTERPERSONAL
CAFÉ EUROPA
LITERATURE AND HYPERMEDIA
COMICS, LITERATURE AND MUSIC
ORAL LITERATURE
Related contents
Poetry Slam competition and performance by Saul Williams
Slam poetry began in the mid-nineties and is a form of poetic expression which takes place within the context of a competition, the slam. The markedly social content of the poetry and the fact that texts are created to be recited distinguish slam poetry from traditional poetry. K06 takes a ...