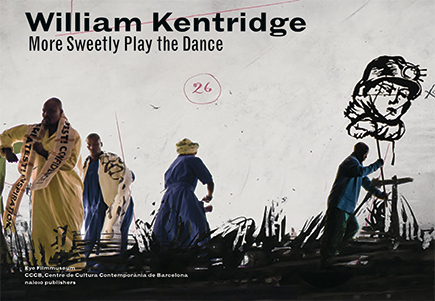 William Kentridge. More Sweetly Play The Dance
English , Spanish , Catalan

22,95€

Buy

22,95€

22,95€
The South African artist William Kentridge has earned a worldwide reputation for his unique animated films, charcoal drawings and a series of large-scale installations composed by moving images, sound , music and sculptural objects. In this publication, William Kentridge explains the genesis of his work More Sweetly Play the Dance, commissioned by the Lichtsicht - Projection Biennale in Bad Rothen Felde and the Eye Filmmuseum in Amsterdam.
In a vivid text, accompanied by photographs taken during the workshop that took place in his studio in the production process, Kentridge allows us to approach in a unique way the background, the preparation and the recording of the work. The book includes a two-meter-long accordion drop-down with an image of the captivating eight-screen installation from the film More Sweetly Play the Dance.
Publication year: 2020
Pages: 144
Dimensions: 24 × 16,5 cm.
Images in B/W: 80
ISBN
978-94-6208-605-0 (Català-Castellano-English)
Edition
CCCB, Eye Filmmuseum, nai 10