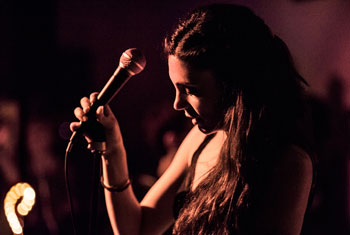 Sandra Sangiao
Seemingly reflecting her childhood dreams, Sandra Sangiao's life today is focused on three directions: music, education and travelling.
As a musician, she has always been attracted by traditional and popular music from the different places she has visited. While she was studying for her master's degree in Modern Music and Jazz (at Esmuc) she travelled considerably and commenced various projects related with the music that touched and moved her.
One of her most significant projects is Barcelona Gipsy balKan Orchestra, a group playing klezmer and gipsy music from Eastern Europe. Over the past 3 years it has become a leading light on Barcelona's World Music scene, achieving major international projection. The group has played in over 20 countries, at venues such as Porgy&Bess (Vienna), Kino Sisko (Ljubljana), Teatro Parenti (Milan), CRR Concert Hall (Istanbul), La bellevillois (Paris), Palau de la Música and l'Auditori (Barcelona) and at festivals such as La Fira Mediterrània de Manresa, the International Gipsy Festival (Tilburg), the Imago Jazz Festival (Slovenia), and Tres Culturas (Frigiliana).
Her other projects include Barcelona Gospel Messengers, Lua (duo with guitar player Annabel Villalonga), Sam Lardner (backing vocals), Sandra i Anaïs (duo with Anaïs Vila) and Bakary Keita (Mandinka music).