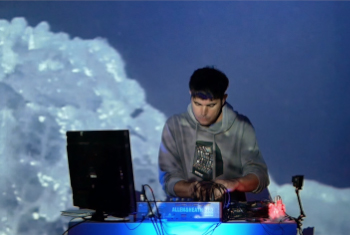 Óscar Martín
Artist, independent researcher and programmer
Artist, independent researcher and programmer, Martín works in the field of algorithmic poetics and the study of generative and chaotic systems. His artistic practice can be understood as a multifaceted cognitive lens through which art, science and technology converge – an unorthodox and critical experimental focus. His works are based on the development of generative systems composed of non-human agents (biological, algorithmic or mechanical) and their interactions and agencies that use light and sound as their main output. From an audio perspective, Martín proposes active listening and broadening our perception through the physical-acoustic experience of emergence behaviour at the limits of structures of chaos and order.

He has been a resident artist at Kunststiftung BW (Germany), Nuvem Station of Art and Technology (Brazil), Plataforma0 in LABoral (Gijón, Spain), Niakaza Space (South Africa), CENC and Qo2 (Belgium) and the Soft Control residence (Slovenia), among others.

His work has been seen and heard at a myriad of international festivals as well as contemporary art venues: La Bâtie Festival (Switzerland), Piksel Festival (Norway), Festival de la Imagen de Manizales (Colombia), Museo Nacional Reina Sofía (Madrid, Spain) and N.K. Projekt (Berlin), to name a few.