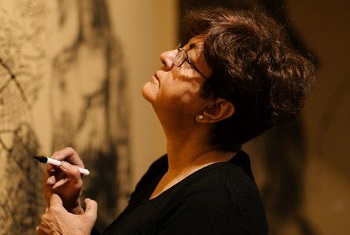 Nalini Malani
Nalini Malani is one of India's most influential contemporary artists with an artistic career notable for her feminist thought and condemnation of violence.
Born in Karachi from which she and her family had to flee because of the partition of India, she is now a pioneer in India in the fields of cinema, photography, installations, video art, and performance. She studied Fine Arts at the Sir Jamsetjee Jeejebhoy School of Art in Bombay and, from 1970 to 1972, spent two years studying in Paris thanks to a French government scholarship. In 2010 the San Francisco Art institute awarded her an Honorary Doctorate in Fine Arts and, in 2013, she was the first woman to be awarded the Fukuoka Arts & Culture Prize. Among other awards, she has received in 2014 the St. Moritz Art Masters Lifetime Achievement Award and the 2016 the Asian Art Game Changers Award.
Her work has been exhibited in several international museums, among them the MoMA Museum of Modern Art, the Tate Gallery, the New Museum of Contemporary Art in New York, the Stedelijk Museum, and the Centre Pompidou. In 2019 she received the prestigious Joan Miró Prize for her long commitment to silenced and dispossessed people, especially women. The Joan Miró Foundation is showing the exhibition "You Don't Hear Me", which brings together all the themes and formats she has been exploring in the last fifty years of her artistic career.