Maribel Riaza
Expert in innovation in the libraries field.
Maribel Riaza Chaparro ha developed her professional career in training for companies, libraries, innovation and publishing.
She began by participating in technological projects related with human resources, such as the Portal del Empleado (employees' website) and Aula Virtual (virtual classroom) for a major company. Subsequently she spent seven years managing the largest private network of libraries belonging to the a bank's social projects fund (Obra Social), undertaking a comprehensive change management project tat altered everything from reading spaces, policies, procedures and activities to the services provided. She was director of Institutional Relations for Editorial Everest.
At present she is a collaborator of Dosdoce.com and manages innovative projects, including audiobooks market development in Spain for Storytel.
Riaza participates in congresses and conferences relating to books and reading, and has written a range of articles in journals and blogs in this sector. She has also published the book Innovación en bibliotecas (Universitat Oberta de Catalunya, 2014).
Contents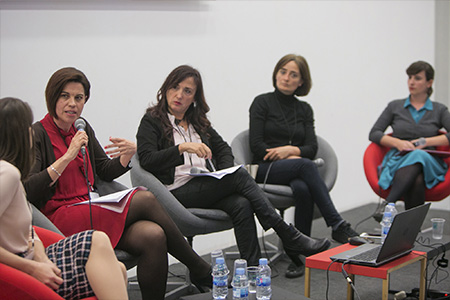 Round-table with: Lauren Romeo (Tekstum Solutions), Anna Ascolies (The Spanish Bookstage), Mireia Lite (Ara Llibres) and Maribel Riaza (Innovation in the book sector). Moderator: Joana Sánchez (Incipy)
Has participated in
Carme Fenoll (Biblioteques de la Generalitat), Maribel Riaza, Carme Galve (Biblioteca Jaume Fuster) and Albert Díaz (Centre de Documentació del Museu del Disseny de Barcelona). Moderator: Javier Celaya (Dosdoce)