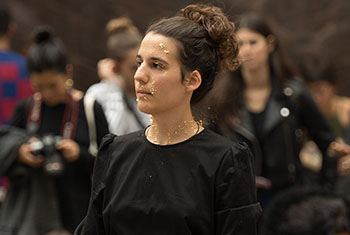 Mar Serinyà Gou
Mar Serinyà has a PhD in Fine Arts (2016) and a master's degree in Artistic Creation from the University of Barcelona (2010). She has a professional degree in singing from Barcelona Municipal Conservatory (2009) and is educated in various body awareness disciplines.
She has given individual performances in centres such as ARBAR-Centre d'Art i Natura (2018), Ü del Bac-Cultura a les afores (2018), Festival Inund'Art and Bòlit St. Nicolau (2018), Bòlit_Centre d'Art Contemporani in Girona (2016), Nau Côclea (2015), MAC-Museu d'Art de Mataró (2015) and FEM-Coorpologia (2012).
She has also had several solo and group exhibitions, including those at the Fundació Olivart (2016), Fundació Vilacasas (2015), Queensland College of Art and School of Art (2015), Bòlit_Centre d'Art Contemporani in Girona (2014), Fundació Fita (2012), Museu de la Mediterrània (2012), and the Girona Art Biennale (2010).