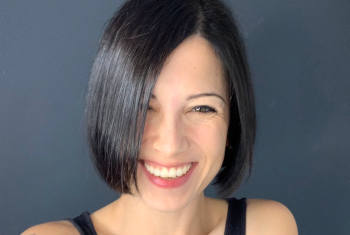 Mamen Moreu
Mamen Moreu (Huesca, 1985). Huescan by birth and Bilbaoan by adoption.
A comic artist and cartoonist, she published her first comic strips in satirical magazine El Jueves in 2009. In them the main character of her first comic book, Marcela, appeared for the first time. She continued collaborating with the magazine intermittently until 2016, and has since published a weekly page, Dolores y Lolo, a series that's already been collected in three books by the Astiberri publishing house: Dolores y Lolo, Dolores y Lolo 2. ¡Viva la revolución! (with texts by Ivan Batty) and Dolores y Lolo 3. ¡La vida patas arriba! (on her own).
In 2014, she published her first graphic novel, Resaca, via Astiberri, with which she was nominated for best new author at the Barcelona Comic Fair in 2015, as well as for best book, best script and best art at the IV Aragonese Comic Book Awards in 2014.
Desastre (Astiberri, 2018) is her second long-form work, although since 2014 she's collaborated on several collective publications together with other authors from the Spanish and international scene, including Institutos (Astiberri, 2014), Enjambre (Norma, 2014), Teresa Perales cómics (Fundación Telefónica, 2016) or El futuro es cómic (Fnac, 2018).
In 2019, she won the Graphic Humour award in recognition of her work, granted by the Splash festival in Sagunto. In December 2020, at the X Aragonese Comic Book Awards, she was awarded the prize for best Aragonese comic book art for her Dolores y Lolo. ¡Viva la revolución! (Astiberri, 2020).
She's also published comic strips and illustrations in El Salto, Pikara Magazine and TMEO, among others. She combines her work as a comic book writer and artist with other illustration jobs, gives talks on comic books and gives drawing workshops for children and adults. She has a dog named Gala and they both have a very similar character.