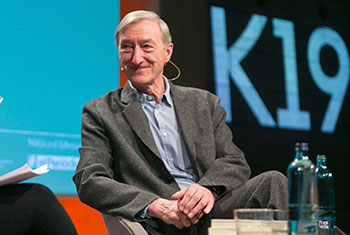 Julian Barnes
Julian Barnes (Leicester, 1946) is the author of a body of work comprising twelve internationally critically-acclaimed novels, in addition to short stories and essays. But many other texts have passed through his hands: after graduating in Modern Languages at Magdelen College, University of Oxford, he worked as a lexicographer and literary critic for different printed and television media outlets.
Before obtaining international recognition for Flaubert's Parrot (Jonathan Cape, 1995), he published a series of detective novels under the pseudonym Kavanagh: Before She Met Me (Jonathan Cape, 1988) and Metroland (Jonathan Cape, 1989). Subsequent work finally established him as one of the great renewers of the novel of our time, with a natural skill at fusing genres and creating frontiers. The Only Story (Jonathan Cape, 2018) is the latest novel that he has published, and the last essay is Keeping an Eye Open (Jonathan Cape, 2015).
Among the accolades he has received are the E. M. Forster Award from the American Academy of Arts and Letters and the William Shakespeare Prize from the F.V.S. Foundation in Hamburg, and furthermore he was made a Chevalier de l'Ordre des Arts et des Lettres.