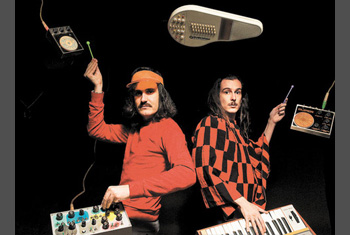 Hidrogenesse
Hidrogenesse define themselves as an electronic art-rock duo, composers of populist-pop songs, producers of sexual-romantic mantras, authors of situationist dance floor fillers, performers of the mystic-comic genre. Hidrogenesse are Carlos Ballesteros and Genís Segarra.

Between releasing Gimnàstica passiva in 2002 and Animalitos in 2007, the band did not play live very often, because Genís is also a member of another band, Astrud, so any chance to see them in concert is a special opportunity.

Since 2000, Hidrogenesse have released: Así se baila el siglo XX (2000), Eres PC/Eres Mac (2001), Animalitos (2007), and most recently, Hidrogenesse versus Hidden Cameras (2010).