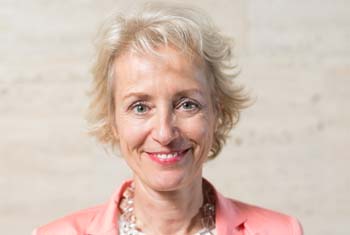 Gabriele Schor
Curator of "The Feminist Avant-Garde of the 1970s: Works from the SAMMLUNG VERBUND Collection, Vienna."
Founding director of the SAMMLUNG VERBUND Collection, Vienna. Gabriele Schor studied philosophy in Vienna and San Diego. She worked at the Tate Gallery, London; was the arts correspondent for the Neue Zürcher Zeitung; and had lectureships for modern and contemporary art at universities in Austria. Since 2004, she has been Director of the SAMMLUNG VERBUND collection, which she has built from the beginning with two main focuses: the perception of spaces and places as well as the feminist avant-garde of the 1970s. Schor coined the term 'Feminist Avant-Garde' and brought it into the art-historical discourse.
Numerous publications: e.g., together with Abigail Solomon-Godeau, the first monographic study on Birgit Jürgenssen (2009); in 2012 the catalogue raisonné of the early work of Cindy Sherman; in 2014, with Elisabeth Bronfen, the first German catalogue on the work of Francesca Woodman; in 2015 a compendium of the Feminist Avant-Garde; and in 2016, with Jessica Morgan, a monographic study on Renate Bertlmann and in 2018 the latest catalogue of Louise Lawler.