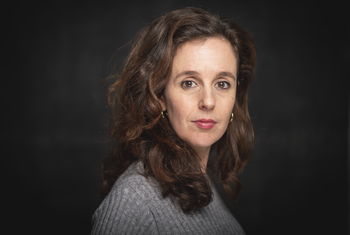 Berta Giraut Junoy
Actress, playwright and poet
Berta Giraut (1980) was born in Barcelona, where she currently resides. She studied Dramatic Art at the Institute of Theatre of the Diputación de Barcelona. In the field of professional theatre, she has worked with Roger Bernat in Terra baixa at the Teatre Lliure, and with Jordi Prat i Coll in the productions: La rambla de les floristes at the TNC, La fortuna de Sílvia at the TNC, Blau at the Sala Beckett, Liceistes i creuades at the TNC, De quan somiava at the Teatre Lliure, and La Fiesta at the Caldera. She has worked with Marc Artigau in Caïm i Abel at the National Library of Catalonia, with Oriol Broggi in Luces de Bohemia at the National Library of Catalonia and Alberto Díaz in El llarg dinar de Nadal at the Maldà Teatro, among others. She has taken part in several television shows: Com si fos ahir, La Riera, El cor de la ciutat and Majoria absoluta, and in TV movie Fassman, the incredible radar man directed by Joaquim Oristrell.
As a teacher, she taught the course How to speak in public at the University of Vilanova i la Geltrú. She teaches voice, diction and interpretation in different theatre schools in Barcelona and specializes in "Reading Out" training for primary and secondary school teachers. In the year 2020, she published her first poetry book, Com l'estel que no hi és, under the care of El Gall editor.
She has recently interpreted and written the show La segona millor, rewarded by the 2021 Odisseu Grant for production support, which critics have welcomed very well.