Wishing to return the homage that George Orwell paid to Catalonia, the CCCB has been holding Orwell Day every year since 2013. This initiative, organised by local scholars of Orwell's work together with the CCCB, aims not only to uphold the relevance of his legacy as a journalist and, in particular, as a critical thinker but also to ensure that his message is kept up to date through contemporary voices which also struggle against dogmatism and authoritarianism while striving to defend freedom of expression.
The Present Relevance of "1984"
The cultural journalist Dorian Lynskey speaks with the writer Jordi Puntí about the influence of the book 1984 in the contemporary cultural imaginary and its impact in the new generations.
Technology, Digital Surveillance, and Disinformation
The journalists Marta Peirano and Peter Pomerantsev, with the researcher Liliana Arroyo as moderator, speak about how the dream of a free and emancipatory Internet has given way to a system of surveillance and manipulation that operates without democratic supervision.
With My Own Voice: Language, Literature, and the Politics of Silence
A well-known figure in the English literary scene, Levy starts out from Orwell's essay, revisiting it from the perspective of a woman writer. In this lecture, which coincides with the publication in Spanish of her two most recent books, Things I Don't Want to Know and The Cost ...
Andrea Lucio, Jordi de Miguel i Oriol Quintana
The recent publication of books and essays on George Orwell clearly show that interest in the writer and his work is as keen as ever. Participants in this panel discussion - young local journalists and researchers - talk about the relevance of Orwell's legacy and the need to pass it on to the ...
In the framework of the Orwell Day, the journalist and activist Masha Gessen defends imagination as a necessary tool for reviving the ideal of democracy and countering the assaults of totalitarianism.
Verdad y ficción en la distopía totalitaria. De Orwell a Bandi
George Orwell's classic novel about totalitarianism 1984 recently returned to the best-sellers list. The unlikely victory of Donald Trump, the rise of the far right in Europe, and a blurring of the lines between reality and fiction seem to have revived the ghosts of the past. Antonio ...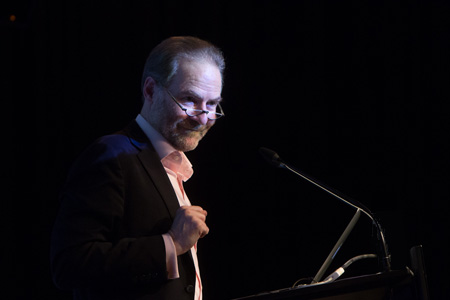 Timothy Garton Ash, the internationally renowned intellectual and author of the book Free Speech: Ten Principles for a Connected World, speaks about the threats faced by free speech and debates about it, as well as the electoral rise of right-wing populism, laws against hate speech, and the ...
On Freedom and the Right to Tell People What They Don't Want to Hear
How relevant is George Orwell's legacy? Many Orwellian concepts still resound forcefully around the world today, for example his defence of freedom of expression and opposition to censorship. On this fourth celebration of Orwell's Day at the CCCB, Miquel Berga, lecturer in English Literature ...