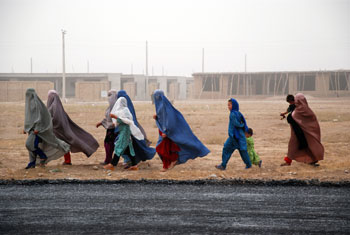 The legacy of the international community in Afghanistan
Debate
The international intervention in Afghanistan started in October 2011. The aim was not only to bring down the Taliban regime, but to capture Osama Ben Laden, the leader of Al Queda, and to save women from the fundamentalists. During more than a decade of international presence, billions of dollars have been invested in Afghanistan and nearly fifty countries have deployed international forces to Afghanistan. Now, it is time to leave. The majority of the countries are packing and they planning to reduce drastically their budget in Afghanistan in the forthcoming years. But, what are we leaving behind? What is the legacy of the international community after more than twelve years? Did we succeed in building a sustainable state? These are only some of the questions that will be explored at the conference.
Wednesday 30th January 2013
16.00 h
Presentation
16.30 h
The security legacy
Speaker: Thomas Ruttig, co-director of Afghanistan Analysts Network (AAN).
18.15 h The humanitarian legacy
Speaker: Susan Helseth, disability advisor to the Ministry of Public Health in Afghanistan.
19.30h The justice and human rights' legacy
Speaker: Farid Muttaqi, former member of the Afghanistan Independent Human Rights Commission (AIHRC).

Thursday 31st January 2013
16.00 h
The economical legacy
Speaker: Doris Buddenberg, former Head of UNODC, Afghanistan; AAN Advisory Board member
17.45 h
The political legacy
Speaker: Francesc Vendrell, former European Union Special Representative for Afghanistan; Chairman of AAN Advisory Board
19.30 h
The women's rights' legacy
Speaker: Suraya Pakzad, founder and director of Voice of Women Organization (VWO); Sajia Begham, lawyer and researcher.
You might also be interested in
The Secret Life of Writers