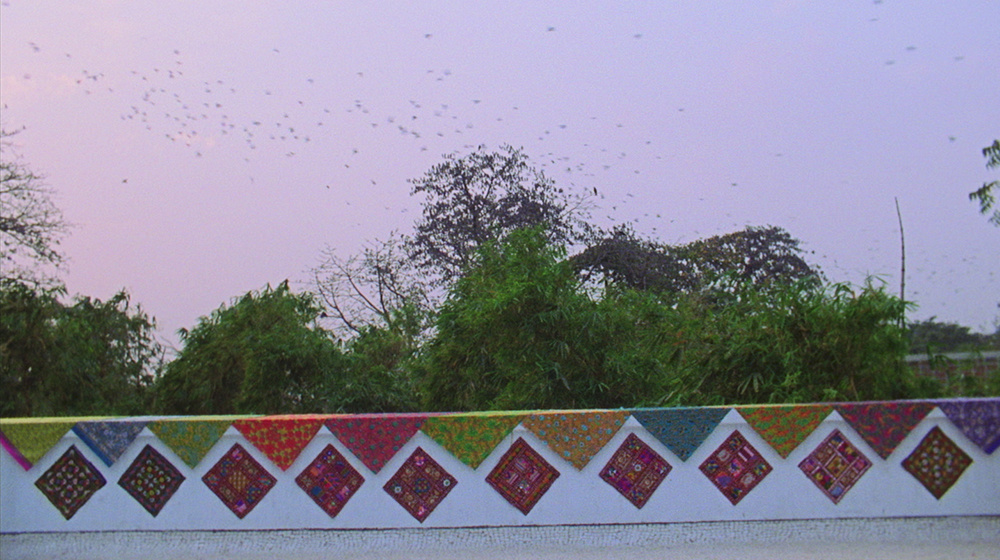 Xcèntric 2019
The Grand Bizarre
The CCCB's cinema
Audiovisuals
Filmed over five years in several countries, this travel journal based on clothing shows us hundreds of textiles and prints dancing in different locations such as Mexico, Morocco and India. An animated film literally made up of clothing, where motifs interlace together and with the landscapes, creating incredible rhythms and associations. 
This is Jodie Mack's first experimental animation film; apart from showing her short films in festivals and museums all over the world, in 2018 she was selected to create animations on the huge screens in Times Square.
This film, through for the most part industrial production material, makes for a piece that appeals to all the senses and which once again highlights there is no object too humble to become a work of art.
The session is completed with her latest short and both films will be premiered in Barcelona.
Jodie Mack:
Hoarders Without Borders, 2018, 5 min, 16 mm, silent; The Grand Bizarre, 2018, 60 min, 16 mm.
Digital projection.
Related contents
Érik Bullot, Su Friedrich, Storm de Hirsch, Edward Owens, Amy Halpern, Masao Adachi, Igor and Gleb Aleinikov, Yevgeny Yufit, John Smith, Karpo Godina, Noémia Delgado or Juan Bufill are some of the filmmakers featured in our programme January- February 2020 of Xcèntric.
Jan Švankmajer, Rudy Burckhardt, Margarita Cordeiro and António Reis, Anne Charlotte Robertson, Carolee Schneemann, Stan Brakhage, Christine Noll Brinckmann, David Brooks and Arthur and Corinne Cantrill are some of the filmmakers featured in our programme January- February 2019 of Xcèntric.
You might also be interested in
Organized in collaboration with Filmoteca de Catalunya