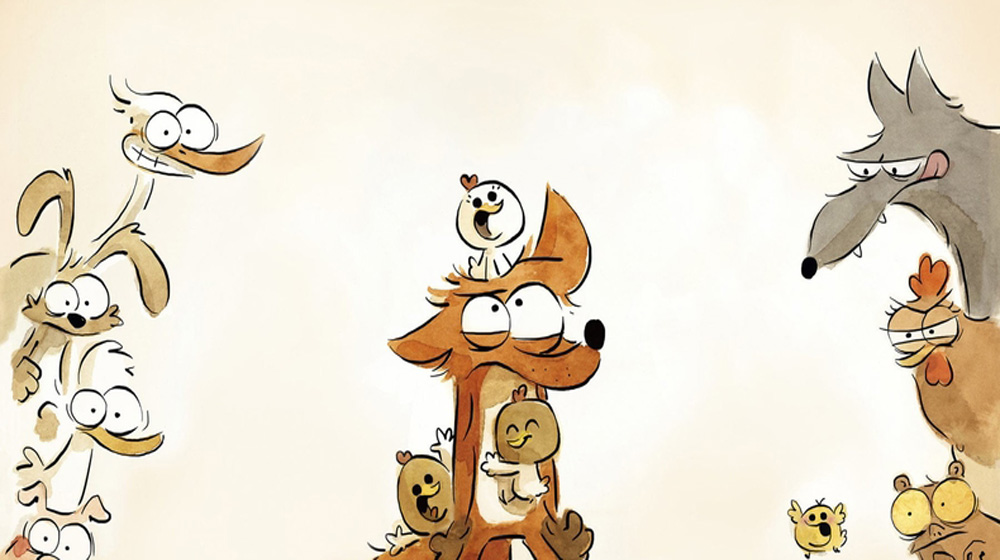 Stories of everyday life
The Big Bad Fox and Other Tales
A movie by Patrick Imbert and Benjamin Renner
Audiovisuals
Free
French animated film The Big Bad Fox and Other Tales is one of the films in the Stories of everyday life film series. An audiovisual series for the whole family.
A fox who couldn't scare anyone or hunt anything comes up with the idea of stealing eggs from a very strange farm, hatching and raising the chicks... and then eating them. But when they are born, the chicks think the fox is their mother. The fox gets quite attached to them, which complicates things somewhat, as she is neither big nor bad. This amusing farm is also home to a rabbit who thinks he's a stork, directed by a crazy duck.
The Big Bad Fox and Other Tales, Patrick Imbert, Benjamin Renner, France, 2017, 79 min, Spanish version
The following short films will be shown before the feature:
Vs. Santa, Raúl Colomer, Aitor Herrero, 2017, Spain, 4 min
On Christmas Eve, a little girl finds herself alone in a huge flat when she finally gets the much-anticipated visit from Santa Claus, who arrives ready to carry out his annual task: delivering presents. But the present she actually wants is not the one Santa brought with him.
Friendsheep, Jaime Maestro, 2010, Spain, 7 min
This short tells the story of a window-cleaning wolf. Day after day, our furry friend despairs, thinking about his job. Times are hard, but luck and a good plan will land him his dream job... in an office full of succulent sheep. However, things don't always go to plan...
Very Lonely Cock, Leonid Shmelkov, Russia, 2015, 5 min 45 s
A hard day in the chicken coop. When the farmer falls asleep at work, the egg-laying production line gets out of hand. The hen takes over and changes are made!
Related contents
Christmas Screenings
An ideal cycle to enjoy Christmas with family. Histories of everyday life is a cycle of short and long films for children, but also for adults. Animated movies show stories of daily life lived with humor, imagination, love and optimism.
You might also be interested in
International call for films generated with artificial intelligence
with filmmaker Luis Macías (CraterLab)