Xcèntric. 13th season 2013-2014
STOP MOTION, YES! Rising stars of animation
Special Programme "Museums night"
Audiovisuals
Free
In collaboration with the CCCB (in the framework of the exhibition "Metamorphosis. The Fantastic Visions of Švankmajer, Starewitch and the Brothers Quay") and the Centre d'Art La Panera, ANIMAC PRESENTS:
STOP MOTION, YES! Rising stars of animation
Of the six short films nominated this year for the Cartoon d'Or (pan-European prize to the best animated short), more than half were made with puppet animation, including the winner, Head Over Heels. Added to this the fact that many of this year's winning short films by young people and students, such as But Milk is Important and Boles, were made using this technique, as old as cinema itself, which Eastern European filmmakers turned into an art form. And the fact that the next Annecy festival will be devoted to stop motion and its creative versatility is one symptom more that, far from being obsolete, in the hands of young filmmakers, animated puppets are being reinvented and coming into their own.
The pioneer Ladislas Starewitch, the surrealist cinema of Jan Švankmajer or the hermetic, metaphysical worlds of the Brothers Quay… All have inspired generations of these and many other new creators who use stop motion or still animation of objects and puppets. While the work and films of these masters are showcased at the CCCB in the exhibition "Metamorphosis" and in Xcèntric's parallel film cycle, Animac has selected the best recent stop motion films at Animac 2014 (Lleida, 20-23 February). Come and (re)discover them.
For all publics. Duration: 60 min
- Fresh Guacamole, by PES.USA, 2 minutes, 2012, no dialogue
- Padre, by Santiago Bou Grasso.France, 2013, 12 minutes, English subtitles
- Boles, by Špela ?adež.Slovenia, 2013, 12 minutes, English subtitles
- Head over Heels, by Timothy Reckart and Fodhla Cronin O'Reilly.United Kingdom, 2012, 10 minutes, stop-motion, no dialogue
- But Milk is Important, by Eirik Grønmo Bjørnsen and Anna Mantzaris.Norway, 2012, 11 minutes, no dialogue
- The Man Who Was Afraid of Falling, by Joseph Wallace.United Kingdom, 2011, 4 minutes, no dialogue
- Lettres de Femmes, by Augusto Zaravello. France, 2012, 11 minutes, French subtitles
You might also be interested in
Monthly film forum sessions at Xcèntric Archive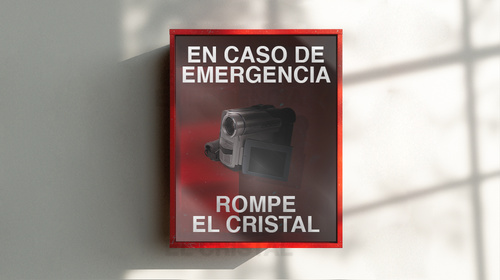 A talk with Dean Luis Reyes plus a screening of "Option Zero" (La opción cero)