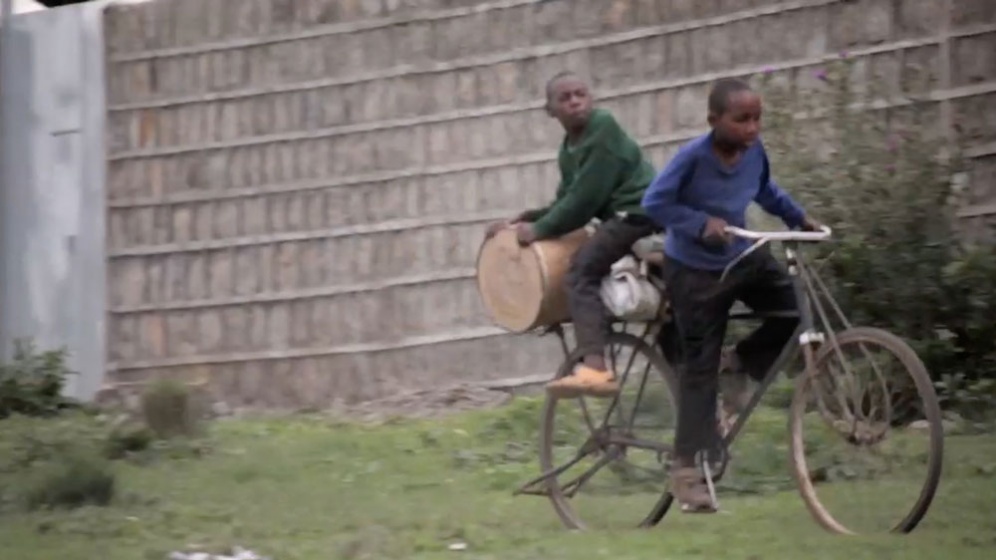 Making Africa
Presentation of "The End of Black Mamba I" by Cyrus Kabiru
Free admission to the exhibition (from 20.00 to 22.00)
Audiovisuals +
Free
The End of the Black Mamba I is the first in a series of short documentaries by artist Cyrus Kabiru on the declining use of a traditional fixed-gear bicycle in Kenya. To coincide with the Loop Barcelona Festival, the piece will be incorporated into the "Making Africa" exhibition, where it can be viewed until the closing date. Presentation at the exhibition hall with attendance by the artist.
Nick-named Black Mamba, the bicycle has achieved iconic status as an affordable vehicle and a popular method of transport for the Kenyan population. However, as modernisation spreads through the African continent, the Black Mamba is increasingly being replaced by inexpensive Chinese manufactured scooters and motorcycles. Filmed on a flower farm near Mount Kenya, the video shows local cyclists who still use this traditional mode of transportation. This older generation praises the Black Mamba for its reliability and health benefits, claiming that the bicycle's replacements, scooters and motorcycles, 'bring sickness and death'. In this film, Kabiru consciously acts as the devil's advocate, arguing that the Black Mamba will, unfortunately, be replaced and will no longer be seen on Kenyan roads. The End of the Black Mamba I, Cyrus Kabiru not only documents a social and historical occurrence, but also creates a dialogue between his own life story and childhood, and the thriving and changing African city in which he now lives.
Cyrus Kabiru is a self-taught emerging Kenyan artist, best known for his elaborate and detailed sculptural spectacles or C-Stunners, made from found objects and recycled material sourced on the streets of Nairobi.
Before its presentation at the CCCB, the video was showed by SMAC Gallery at the last year's edition of the LOOP Fair and later acquired by the H+F Collection.
You might also be interested in
Cinema for all the family
Masterclass at the Xcèntric Archive