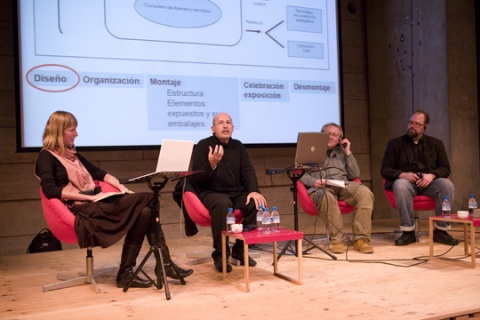 NOW 2007
Neurotica: Habitat
The contemporary Habitat Faced by Climate Chaos
Debate
By 2008 it is predicted that, for the first time in human history, most of the world's population will live in the cities. The objective of the second phase of the Neurotica project is to study the metabolism of urban habitats and the possibilities that ecological innovation can improve the quality of life in the mega-cities and surrounding rural areas. The challenge is to find solutions in preventing the countryside from being turned into a controlled market garden devoted to producing food and energy products for the city, and to slow down trends toward hyper-consumerism.




Is technical and scientific development the environmental solution or the cause behind unsustainability? What is society's view of our advance towards climate chaos?
Alex Steffen, promoter of ecological innovation and co-founder of worldchanging.com, talks to Václav Cilek , geologist, philosopher and Head of the Geology Institute at the Academy of Sciences of the Czech Republic, and Joan Rieradevall, researcher at the Autonomous University of Barcelona's Institute of Environmental Science and Technology. The session will begin with the first-ever showing of an interview with Vandana Shiva, physicist and environmental activist.
You might also be interested in
When information is a war weapon