MINIPUT
MINIPUT 2021
27th Quality TV Festival
Audiovisuals
Free with pre-booking
The MINIPUT, the only exhibition show on quality television in the Spanish state, celebrates this year its 27th Edition.
The MINIPUT presents the most innovative, provocative and public service-oriented programs of the year. The projects, presented during the show by their managers, are selected for their committed or experimental approach, because they propose a new television format or because they make use of new technologies.
SESSION 1 (10.00 - 11.20 am):
10 am
INTRODUCTION
By Francesc Escribano (National Coordinator of INPUT) and Montse Pujol Solà (Coordinator of MINIPUT).
10.15 am
CLOROFILIA: LOVE AND PLANTS
Argentina, 25', series, Canal Encuentros
Presented by: Marina Zubiaur (UPF student)
This series introduces a new way of telling stories that focus on the natural world by combining fiction and documentary. Clorofilia puts different Argentinian landscapes on display and helps us discover and wonder at the amazing world of plants and botany, from 18th-century naturalists to the consequences of the current climate crisis.
Clorofilia reinvents itself in each episode. It begins as a soap opera, exploring how plants find their soul mates, then shows a dystopian future where plants have become extinct and humanity is disappearing, ending up with a more classic documentary. Clorofilia asks what we're doing with this fantastic world; what kind of future awaits if we don't change our way of life.
10.45 am
ULTRA STRIPS DOWN
Denmark, 11', children's programme, DR Ultra
Presented by: Aïda Torrent Ciudad (Director of "Oh My Goig")
Discussion with Jannik Schow (Creator)
In this series, a class of boys and girls have the opportunity to ask a group of naked adults anything they want. Each episode deals with a particular part of the body: penis, vagina, breasts, buttocks and the rest. In several rounds, the kids ask questions they may have never dared ask before and the adults answer them. There's no such thing as a stupid question or wrong answer. Each programme includes a survey about the part of the body in question while the presenter ensures the tone is understandable, fun and comfortable for everyone. The adults represent different types of people and some episodes include both genders while others don't. The aim of the programme is to show children that the body is something normal we should never feel ashamed of, helping boys and girls to feel at ease with their own bodies.
SESSION 2 (11.50 am - 1.30 pm):
11.50 am
HONG KONG CONNECTION: 721 YUEN LONG NIGHTMARE
Hong Kong, 22', investigative documentary, RTHK
Presented by: Eva Arderius (Head of News for Betevé)
This is an investigative attempt at reconstructing what happened on the night of the 21st of July 2019 in Hong Kong, when a mob of over 100 armed men indiscriminately attacked civilians in the streets and subway, threatening pro-democracy protesters who were returning home after a protest against the extradition bill. Immediately after the attack, Hong Kong Connection reporters collected footage from local video surveillance cameras and mobile phones, as well as interviewing victims and eye witnesses.
This is the first investigative documentary to reconstruct the events as they happened and it received a large number of positive responses and achieved 4.5 million views online. It was broadcast on the 29th of July 2019, one week after the attack.
12.30 pm
DAY OF REUNION
Japan, 48', talk show, NHK
Presented by: Belén Jiménez (Doctor in Psychology and researcher)
This is an unprecedented "chat show". Digital technology enables guests to talk to a deceased person they want to see again, recreated on screen. The guest in this episode is Tetsuro Degawa, a popular Japanese comedian who wanted to see his late mother again. His mother's images come from a motion capture process that creates real-time computer graphics of body movements and facial expressions, while the recreation of her voice is based on an analysis of her images. A talented impressionist improvised what his mother would say, based on the results of research (information known only to Degawa and his relatives). The deliberate absence of decoration on the set ensures the programme is seen as a place for a personal encounter between the guest and their deceased loved one.
SESSION 3 (2.00 - 3.55 pm):
2.00 pm
MY NAME IS CLITORIS
Belgium, 88', documentary, BeTV
Presented by: Clara González (UAB student)
Twelve young women aged between 20 and 25 recount their experiences with their sexuality from childhood. In their own rooms, looking at camera, they talk openly with the two female directors, who face the same doubts. They describe their first sensations, random explorations, secretly shared stories and unexpected obstacles, all sharing a desire to achieve sexual equality, happiness and freedom. The documentary reconstructs a dialogue that many of the protagonists would have liked to have had when they were teenagers and offers young women, as well as young men, a safe space to reflect on the inequalities that have become our whole social structure.
SESSION 4 (4.25 - 5.40 pm):
4.25 pm
BATHROOM BUDDIES
Finland, 13', fictional series, Yle
Presented by: Brigitte Franch and Gerard López (Tecnocampus students)
Discussion with Kaya Pakaslahti (Director)
Hilda and Lo are best friends and now also flatmates. As best friends, they're very close and open to each other, which is why we follow them to the bathroom, where they talk, laugh, cry, shower and go to the toilet together. The series' feminism is powerful, both in terms of what they say and also their personalities. They're not stereotypical women with stereotypical dreams but complex people who try things out, make mistakes, argue and love. The series combines drama and humour and targets young adults attempting to make their way in a complex world whilst under pressure from the expectations of society, family and friends.
5.05 pm
EL ETERNO FESTÍN: LA RAMBLA, CIUDAD IMAGINADA
Mexico, 27', documentary series, TV UNAM
Presented by: Laia Berenguer and Maria Vilariño (UdL students)
Structured as a documentary series, El Eterno Festín is a journey into a history and time that are now disappearing. La Rambla is one of the oldest "loncherías" in Mexico City. These low-cost restaurants became popular after the US intervention in Mexico around 1846, when it became customary to eat a "torta" at lunchtime, a Mexican version of the sandwich. La Rambla is a silent witness to the 20th century, its windows looking out onto the city's inhabitants as they walk by every day, like shadowy ghosts in this "imagined city". The series is an archaeological investigation of Mexico City's public life in the mid-20th century through its restaurants, meeting places, and the characters frequenting them. Each episode is by a different director, returning to the city of their childhood where personal memories reappear as ghosts.
SESSION 5 (6.10 - 7.40 pm)
6.10 pm
ROBBIE HOOD
Australia, 10', fictional series, SBS
Presented by: Laia Maza Barceló and Aleix Anton Lobato Vázquez (URV students)
Set in the remote town of Alice Springs, Central Australia, this fictional series is a contemporary telling of a classic tale. Accompanied by his gang, Robbie Hood is a charismatic 13-year-old misfit with a heart of gold who skirts the law to fix the problems in his community. Guided by his memories of his mother and a strong sense of what's right and what's wrong, everything Robbie does is for a reason and, irrespective of whether it works out or not, he does everything with the best of intentions. Life in his grandmother Mary's overcrowded house is not easy, especially when his lazy father would rather spend the money on alcohol than food. But Robbie always manages to find a way to provide for those he loves.
6.25 pm
HOMS AND ME
Germany, 62', documentary, NDR
Sulaiman Tadmory is 23 when Assad's army surrounds the old city of Homs (Syria) at midnight. When he wakes up the next morning, he finds himself living in a besieged city. He quickly learns what this means: no food, no medicine, his family a few hundred metres away and yet out of reach. So far, the bombs haven't got to Sulaiman, nor the snipers. He doesn't know exactly when it happened but at some point he got used to living with the constant fear of death. What's more, he's not sure what he should be most afraid of: death or life. Because it won't be long before Assad's men take over the old town.
With a voiceover by award-winning actor Tom Schilling, Sulaiman Tadmory shows us what it's like to live in a besieged city and reminds us what survival really means.
SESSION 6 (8.10 - 9.30 pm):
8.10 pm
SPECIAL SESSION: THE FUTURE OF FICTION ON PUBLIC TELEVISION
Participants: TVE, Oriol Sala-Patau (Head of Fiction at TV3), Cesar Martí (Head of Programming at À Punt), Joan Carles Martorell (Director of IB3), Fernando R. Ojea (Head of Content at Televisión de Galicia).
Presented by: Francesc Escribano (National Coordinator of INPUT)
Duration: 80 minutes
We live in the age of fiction streamed on media platforms. So what role does public television play in such an environment? Can (or should) it compete with the big platforms? Spain is one of the few European countries whose public broadcasting authority (the ICAA) doesn't support television. In this session, representatives from TVE, TV3, IB3, À Punt and TVG discuss the future of fiction on public television.
You might also be interested in
Monthly film forum sessions at Xcèntric Archive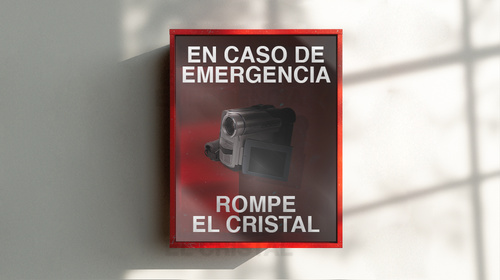 A talk with Dean Luis Reyes plus a screening of "Option Zero" (La opción cero)