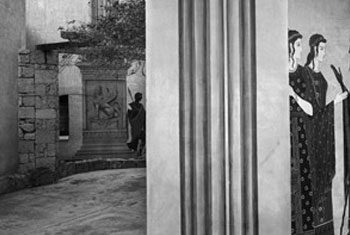 Metropolis
Metropolis'12
Lectures
Debate
Masters Program in Architecture and Urban Culture
The Metropolis Masters in Architecture and Urban Culture is conceived as a collaborative project between the Centre de Cultura Contemporània de Barcelona, the IDEC/Universitat Pompeu Fabra and the FPC/Universitat Politècnica de Catalunya. It was created over twenty years ago by Ignasi de Solà-Morales, its founder and directing force, as a laboratory of research and production on the subject of the contemporary city. During its existence, our Program has brought together a multidisciplinary viewpoint. Architects, urbanists, geographers, artists, designers, and critics are invited to look into the present-day condition of cities, to open up a debate and a productive structure for graduate students.
The primary aim of the Metropolis Program is to stimulate and guide our students' research and design work. Each student develops an individual two-year long project that is directed by the Program's faculty, and benefits from the Program's academic activities: seminars, lectures, visits, workshops, and the Metropolis master class. Our graduates are thus enabled to undertake further professional and academic responsibilities with the strengthening experience of having conceived, designed and developed a research project that challenges our understanding of all the complex forces that come together in the new urban spaces and present-day demands in our cities.
The Program intends to support a diversity of contributions.
Our student population is drawn from different countries, a special strength of the program that, together with its recent Alumni Association, reinforces the partnership between the growing network of its graduates all over the world.
The city of Barcelona has led the international debate on the future of our cities in different ways – at the theoretical level, as well as in its realized projects. Our Program has played the role of an academic and research laboratory in this context, offering a space for advanced study on the relationship between the social, cultural, and architectural conditions of the cities where they develop.
Program directed by Xavier Costa, Antoni Luna and Suzanne Strum
You might also be interested in
When information is a war weapon