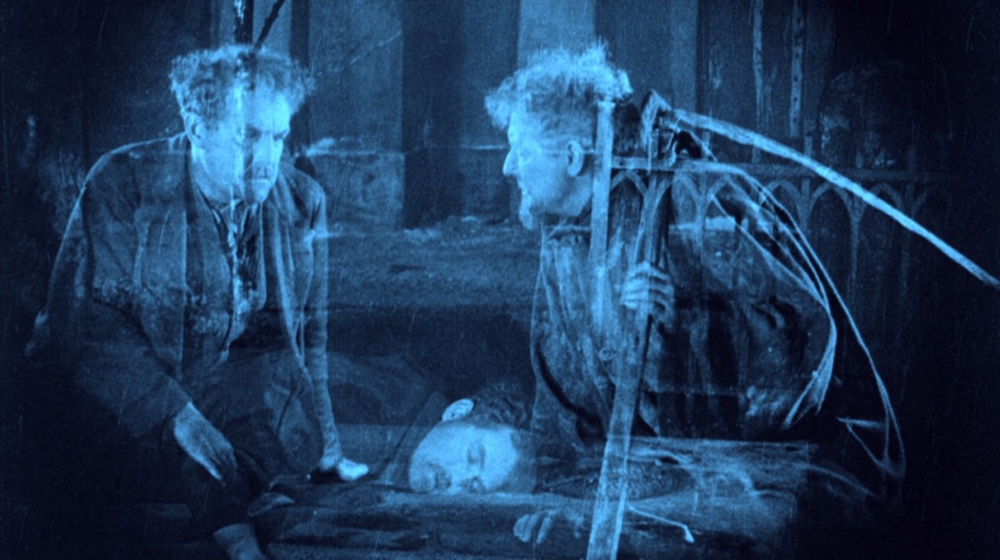 Gandules
La carreta fantasma (Körkarlen)
Session 1: Magic (film-concert with Obsidian Kingdom)
Audiovisuals
Free
La carreta fantasma (Körkalen)*
Victor Sjöström
1921 / Sweden / DCP / 103 min / OV with Catalan subtitles / film-concert with Obsidian Kingdom

One of the great classics of Nordic film and fantastic silent cinema of all time. Based on the novel of the same name by Selma Lagerlöf, the film is a reference to the Swedish legend that the last sinner to die before the stroke of midnight on New Year's eve has to drive a ghostly carriage for a whole year. This marks the starting point of a spectral journey through the most decadent episodes of the life of David Holm (played by the film's director, Victor Sjöström) in an emotional crescendo towards a dramatic end.

This is a very special occasion to see The Phantom Carriage: the film's soundtrack has been composed and will be performed live by Obsidian Kingdom, a Barcelona band internationally known on the metal, drone, avant-garde and industrial music scene. Its forceful, experimental immersive sound blends perfectly with the magical, phantasmagorical spirit of a great classic like The Phantom Carriage.

*Not recommended for under-16s.

Check the complete programme of Gandules'18 "Illuminated cinema: Magic, altered states and the occult".
Related contents
From 7 to 23 August, the CCCB's summer film season brings us nine films that posit illumination as a means to enthuse and enlighten us. Free entrance.
You might also be interested in
International call for films generated with artificial intelligence
with filmmaker Luis Macías (CraterLab)